On Saturday, December 11th, 2010, the APU Wind Orchestra held its 8th regular concert in the APU Millennium Hall. The theme of this year's concert was MUSIC DOESN'T HAVE BORDERS, and the orchestra performed several styles of music in an attempt to express the connections of humans beyond borders and generations.



The orchestra played "Island Sun" and "The Last Letter from Murdoch", the same songs they played when they won the Gold Medal in the Oita Prefecture Wind Orchestra Contest this year. Mixing foreign and domestic songs, they also played the Japanese hit song "Last Christmas" and the famous pop song "We are the World"

The orchestra mixed songs, stage performances and dancing into the concert, and orchestra alumni joined them for the encore. This unique display of showmanship mesmerized the audience.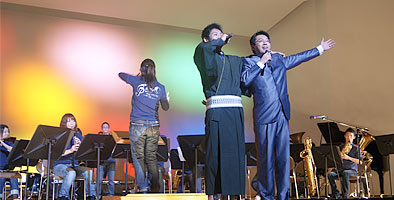 Orchestra leader FUNAKOSHI Sakie (APS2, Japan), reflected on the concert and discussed her aspirations for the future: "The members all had different ideas on how to perform the songs, but since we trust each other, we were able to conduct an elaborate stage performance. Given our theme this year, I wanted to remove the barrier between the performers and the audience. I was happy when one of the audience members told me that the performance was fun and interactive. We will continue spreading the word of the wind orchestra as we aim to win more contests and wow audiences with our music even more."

The APU Wind Orchestra was founded in 2002. This year it won its third straight gold medal in the University A Division of the Oita Prefecture Wind Orchestra Contest. An active group, the orchestra performs mini concerts both on campus at the Tenku Festival and welcome events and of campus at hospitals and train stations in Beppu.
Reporter, Student Press Assistant (SPA): HIRABAYASHI Hayato (APS2, Japan)