On Tuesday, December 21, 2010, the APU 10th Anniversary "Arigato" Variety Show was held at APU. This event was a winning concept in the APU 10th Anniversary Idea Contest held on June 9. The event featured APU Japanese Junior Lecturer, Ms. WATANABE Wakana and members of the APU Comic Story Telling Institute. The room was packed with many APU students and members of the general public came along to enjoy the fun event.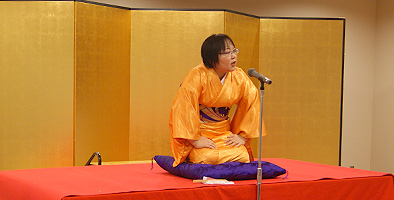 This event aimed to put a smile on the faces of everyone involved with the University through a performance of "rakugo", a traditional form of Japanese comedic story telling and was made possible thanks to the efforts of Ms. WATANABE. The event also featured speeches by APU international students GUNAWAN Magdalena (APM4, Indonesia) and HOSSAIN Imam (APM4, Bangladesh) in their fluent Oita-Ben dialect.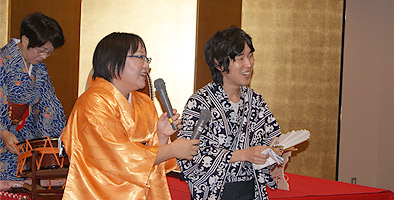 Performing under her stage-name (Yukemuri-tei mochi mochi), Ms. WATANABE gave a comical rendition of the Japanese folk story 'Momo-Taro (peach boy)' in addition to a 10th anniversary skit by the APU Comic Story Telling Institute. Following this, amateur member of the Southern Oita Rakugo Association, Mr. YAMADA Takami, performed 'shiba-hama', the classic Japanese comic story, and received a rousing applause from the audience.

Marking its 10th anniversary in April, 2010, APU has been holding a number of events to express our gratitude to our supporters over the years. This event marks the conclusion of the 10th anniversary celebrations.