On Tuesday, December 14th, 2010, the grand finale of the Japanese Week was held in the APU Millennium Hall. Entitled "Samurai", the impressive show wowed the audience of APU students, faculty, staff, parents and local residents.





The grand finale borrowed themes from this year's hit historical drama "Ryomaden" and featured a performance in which the late Edo Era figures of Sakamoto Ryoma, Takasugi Shinsaku, and Nakaoka Shintaro meet Matthew Perry, admiral of the Black Ships. The student actors told the story of how Japan absorbed new cultures and introduced its culture to the world.

The grand finale was a thrilling showcase of old and new Japanese culture. It featured a Japanese taiko drum performance, a Japanese calligraphy demonstration and traditional Japanese dancing as well as theatrical performances and dancing by students dressed as animation characters and a fashion show.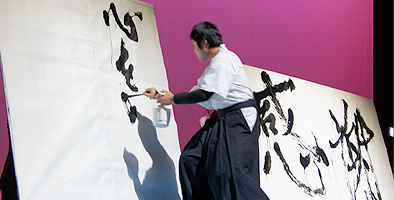 YOSHIMURA Takashi (APS2, Japan) took part in the Calligraphy Society's performance. "We practiced over and over for the grand finale, and the members discussed how we should move and what formation we should use. I hope that some people who watched our performance gained an interest in the traditional Japanese art form of calligraphy."




Japanese Week leader HATAKEYAMA Satoshi (APS2, Japan) reflected on the events, "I took part in last year's Japanese Week festivities and thought I would like to work with my classmates to organize this year's events, so I assumed the role of leader. 200 student staff collaborated to pull off the grand finale without a hitch. I am very grateful for everyone who helped out."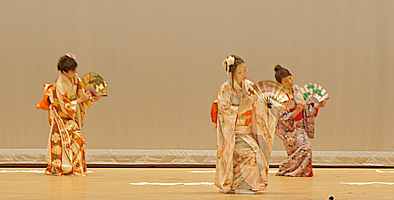 An annual event on the APU calendar, Multicultural Weeks are always well received both on and off campus and are a tribute to the many hours of practice our students put into their elaborate and creative shows that would put professionals to shame. The 3rd installment of Multicultural Weeks for this semester, Bangladesh Week, will begin on Tuesday, January 11.We hope that those of you who haven't yet experienced Multicultural Weeks will take advantage of this opportunity to experience the APU culture!
Reporter, Student Press Assistant (SPA): Nagatomo Rie(APS1,Japan)