Schedule is
here
(Japanese only).
On October 29 and 30, APU's annual cultural festival Tenkusai will be held. The festival starts from 10:30 in the morning and will be finishing at 8:00 in the evening. On the 30th a fireworks spectacular will be take place at the Night Festival (held for the first time) from 5:00 in the evening.
There will be booths run by students selling everything from original to ethnic food, and over 40 flea markets! In addition, there will be a ghost house, giant kites, and various styles of martial arts performances by Oita AMW pro-wrestling and APU students.
There will also be two stages with various performances, such as a drag queen show, Wadaiko (Japanese traditional drumming), Samurunori (Korean traditional music) and concerts by school and student rock bands and more! On the 29th special guests AKI Studio Dance Group from New York will be coming to dance with APU students.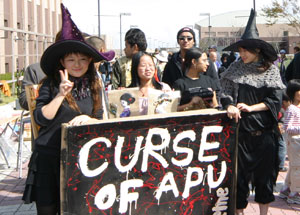 On the same day (Saturday October 29), the fifth and last Open Campus for the year will be held. Lectures on APU and Ritsumeikan University's General Admission Examination (English, world history, and Japanese history) and the English Center Examination ("Strategies for the Listening Exam") will be held. Copies of the APU Ritsumeikan University General Admission Examination Overview will be given to all attendees. High school participants from Korea will also be in attendance.
Program (tentative):
*Lectures on University's General Admission Examination (English, world history, and Japanese history)
*A Course on Center Exams (English): "Strategies for the Listening Exam"
*Presentations from international students
*Information session on General Admission Examination
*CAP (Crossover Advanced Program)
*Campus tours in 4 languages (Japanese, English, Chinese and Korean)
*Guardian explanation session
For more information, please take a browse through APU's online e-magazine
'APU Mate'.
If you are going for autumn drive, why not stop by the APU campus and meet the students? We look forward to seeing you at Tenkusai!
About the Tenku Bus Ticket
Places where the tickets will be sold:
1 Oita Kotsu Bus (Only on APU Line)
2 Oita Kotsu Beppu Kitahama Office
3 Bus ticket counter of Beppu TOKIWA 1F
4 Tikcet counter of Beppu Kanko ko
5 COCO Store next t Kamegawa Station
6 Base Event' tent
7 APU COOP
Dates when the tickets will be sold: Saturday, 29th October Sunday, 30th October
Tickets will be sold at 600yen (2tickets in 1 packet).