学生生活|講演・シンポジウム
Dec 27, 2010
On the weekend of December 4th and 5th, December, 2010, the 3rd RU & APU Joint-Symposium was held at BKC, Ritsumeikan University. Fourteen students on the Ritsumeikan University (RU) Graduate School of Science and Engineering Overseas Education Program joined with sixteen APU graduate students for group presentations and a panel discussion. The symposium offered participants the opportunity to work together and discuss critical issues and challenges we will face in the future such as increasing populations, climate change and environmental sustainability.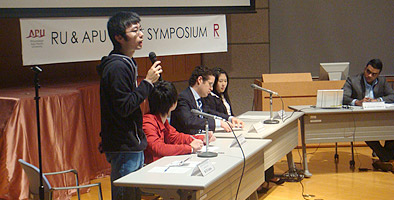 The symposium began with an opening remark by RU College of Science and Engineering, Department of Photonics Prof. FUJIEDA Ichiro. Six groups of students then presented their findings on a range of topics including "How can we pursue sustainable development while tackling global climate change?", "How can we balance population increase and resource scarcity?" and "How can we sustain the environment in order to maintain global biodiversity?".

A Q&A session followed each of the group presentations providing the opportunity for opinions to be raised by APU and RU students and faculty members. A hot debate then unfolded on the topic of nuclear energy and the management of nuclear waste.

The Dean of the Graduate School of Asia Pacific Studies, Prof. Jeremy EADES gave the concluding remarks and summarized group presentations. The best group presentation was selected and also best three presenters were given certificate and a token of appreciation.

During the farewell lunch Prof. YOKOYAMA Kenji, Dean of the Graduate School of Management expressed his gratitude to Professor FUJIEDA Ichiro for all the hard work that students and participants had put into this event.

Please click here for an article on the 2nd RU & APU Joint-Symposium held at APU.
Reporter, Student Press Assistant (SPA):
Dimithri Dveinda Jayagoda (GSAM 2, Sri Lanka)