From August 22 to 26, HPAIR 2005 took place at Roppongi Hills in Tokyo and more than 900 university students from 53 countries gathered to discuss important political, economic, and social issues that are facing the Asia Pacific region.
This year 26 APU students selected through a competitive application process, participated in the conference and shared their views with other delegates.
The HPAIR (Harvard Project for Asian International Relations) is Harvard University's outpost in Asia, and aims to offer a substantial academic programme and establish a global network for young prospective leaders. Since its inception in 1991, the annual HPAIR conference has brought together students from the world's foremost universities - with leaders in the fields of government, business, culture, and academia - emerging as the largest annual Harvard event in Asia, and the largest annual student conference in the Asia-Pacific region.
The conference theme this year was 'Futuring Asia: Contemporary Challenges and Emerging Realities', and six workshops were held inlcuding Art, Education, Health, Immigration, Security, and Trust. Distinguished guests and speakers included Her Imperial Highness Crown Princess Masako and Minister of State for Economic and Fiscal Policy and Minister of State for Postal Privatization TAKENAKA Heizo. In the workshop focussing on immigration issues, Professor YAMAGAMI Susumu from APU was invited to speak about Japan's immigration policies.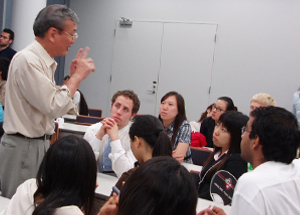 Xenia Chen (APM 1) reflected on the conference and said: 'APU delegates were honored to be the second largest Japanese delegation at the conference after the University of Tokyo. APU delegates actively raised questions and participated in the discussions. We played the role of facilitators to lead team presentations and discussions in the workshop about Higher Education. The contribution by the APU delegation was recognized and praised widely throughout the conference. Many speakers and delegates from other countries were impressed by APU's bilingual proficiency and experiences of international exchange at APU. It was definitely an inspiring and motivating experience for APU participants. We were very proud to represent APU at HPAIR 2005.'
'This event was a continuation of HPAIR 2004, held in Shanghai last summer, and was one of most memorial events in our campus life.' Jesse van Egmond (who graduated this Fall) and Masashi Yui (APS 4) were involved in organizing the conference.' The organizing committee was a collaboration of Harvard University students and the Host Country Organizing Committee (HCOC) to which we were all belong. The HCOC comprised of students studying throughout Japan so at times we experinced some challenges in communicating with one another. However, we were very motivated to achieve a successful conference so we united are efforts as one. To promote positive participation from Japan we held recruiting sessions with the Chair of HCOC at APU twice. We really felt APU students' interest and enthusiasm toward the conference and we are very glad as organizers that consequently many APU students attended the conference. APU's environement fosters international relations and we believe that APU students' strength in this area was demonstrated fully at the conference.'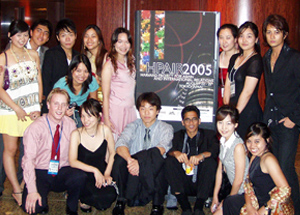 In April APU-HPAIR Network Club was established to promote APU's participation in summer events and held study seminars prior to the conference. The next conference, HPAIR 2006, will be held in Mumbai India. We hope as many APU students as possible will be able to attend.