Working together with the student body, APU continues to provide opportunities for students to get involved and assist the University through a range of initiatives. Students have taken up a range of positions around the Campus including System Assistants (SA) who provide computer and information technology support and Library Assistants (LA). APU students have also taken up positions as University publicity Student Press Assistants (SPA), and Resident Assistants (RA) support staff at AP House.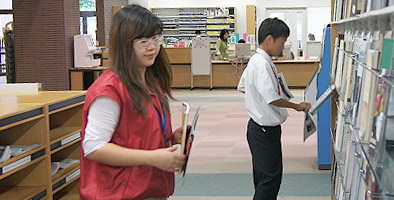 Prior to the end of the semester, ceremonies were held for SA, LA and SPA staff who have reached the end of their term. On Wednesday, January 26, 2011, SA member UENISHI Takahiro (APS4, Japan) spoke at the SA Closing Ceremony, "My experiences as an SA have taught me a range of technical skills that I can apply in my future career. I have also been able to make many new friends". NUGROHO Katarina Marsha Utama (APM4, Indonesia) commented on her experiences as a SPA member at the Tuesday, February 1 SPA ceremony, "I have made many lasting memories with SPA including writing articles, attending meetings and seeing our ideas become a reality".

Through working together with staff and faculty members, students not only overcome differences in culture and language to learn the necessary skills and knowledge they need to function in the working world after graduation, they also develop organizational skills and a sense of responsibility. These valuable experiences will no doubt play an important role in their character development.

With students from eighty-five countries and regions around the world, APU has created a multicultural campus with a wide range of difference cultural values existing side by side. Often referred to as a "mini United Nations", APU continues to promote greater communication with the student body and make use of student talents in the management of the University.