From Monday, January 17 until Sunday, January 23, 2011, the Habitat APU student volunteer group held an event outside the JR Beppu Station as a gesture of appreciation to the local community for the enormous support they have received over the years. Entitled "Arigato from Us and the World", the event featured a number of exhibitions and displays, a rubbish clean-up, and a presentation of the group's achievements over the last five years.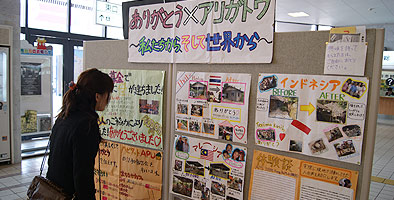 Habitat APU is a student branch affiliated with the international volunteer association, Habitat for Humanity Japan (HFHJ). Making use of the long vacations, Habitat APU members travel to developing nations and engage in volunteer projects to build homes for the needy with local carpenters. The display presentation at JR Beppu Station featured pictures and information about their volunteer construction projects in Indonesia and Thailand.

On the 22nd and 23rd, a clean-up project was held in the area around JR Beppu Station and local beaches. A number of students took the opportunity to thank members of the community in person and invited them to attend their presentations.

On the final day of the event, an information presentation was held in front of JR Beppu Station which gave a report on how donations collected in Beppu and Oita City were being used and what kind of houses were being built. Following this, an exchange event was held which invited members of the public to discuss the issue of international volunteering. A large number of local community members got involved in the event including local university students.




Event presenter, MATSUSHITA Yosuke (APM2, Japan) spoke of his aspirations for the future, "Preparing for this event took a lot of time and effort, but it has been very satisfying to see so many people come along and enjoy the program. We plan to hold a similar project in Nepal next spring and look forward to reporting and sharing the results with the local community".

Habitat APU representative, KAWAHARA Rina (APM2, Japan) commented on the event, "Thanks to the cooperation, generous donations and support of the Beppu and Oita community, we have been able to carry out a range of projects. This is our fifth year as an organisation and we wanted to hold an event that would demonstrate our gratitude to the local community".

Habitat APU has been holding regular donation appeals outside JR Oita and Beppu Stations since 2008 and collected approximately four hundred thousand yen from a total of 1,828 people. All funds raised are sent to HFHJ and then put to towards funding construction projects in areas of need.

More information on Habitat APU is available on the APU official homepage:
http://habitatapu.web.fc2.com/
Reporter, Student Press Assistant (SPA):HIRABAYASHI Hayato(APS2, Japan)