On Saturday, January 22, 2011, the Musy Tone chorus circle held their "Musy Tone 5th year anniversary Gratitude concert Musy Tone and Friends" to express their gratitude to everyone who has given their support to the group over the years.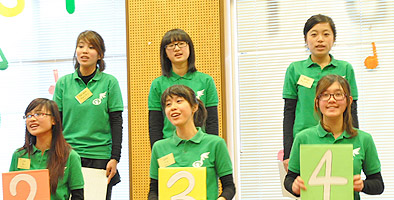 The group sang a number of songs in different languages including Vietnamese, Chinese, Korean and Indonesian in addition to a "If you're happy and you know it clap your hands" featuring languages from fifteen different countries. Members of the local "Ringo-no-Kai" music volunteer group have been supporting the group and performed in the concert in addition to former Musy Tone members. A large number of people from the local community also came along to enjoy the concert which was held as a way to realize Musy Tone's goal of "providing an opportunity to bring harmony to people of different cultures and nationalities through music".

Circle representative, WANG Jingyi (APM3, China) commented on the experience, "The elderly members of the audience gave us the impression that our songs had made them feel youthful again. It is a great feeling to bring joy to members of the local community who have supported us over the years". Former group representative and soon-to-be graduate, SASAKI Azumi (APS4, Japan) offered a message of support to the junior group members, "Musy Tone has always been at the center of my university life. I hope that the junior members will continue to get involved in a range of projects and enjoy interacting with the local community".

Musy Tone will continue to share their heart warming harmonies and take part in a range of exchange events with the local community both on and off campus.