On Wednesday, February 10th, 2011, Nippon Light Metal Co., Ltd. employee JITMANMANA Siripong, who had been studying as a corporate training program student in the Graduate School of Management since last September, completed his special MBA program and received a Certificate of Completion from President Korenaga Shun.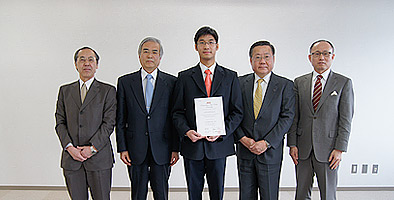 Mr. JITMANMANA remarked, "For an adult learner like myself to have had the opportunity to study at university is invaluable. Not only did I study diligently, I made many new friends. I am grateful for this wonderful experience."

APU accepts corporate training students into its undergraduate and graduate schools in an effort to provide education to gainfully employed adult learners. The program with Nippon Light Metal Co., Ltd began in 2006, and Mr. JITMANMANA is the fifth student to complete the program.