教育プログラム|学生生活
Feb 28, 2011
On Wednesday, January 26th, 2011, 12 students from the fourth cohort of the Global Business Leader Program—a program APU established in AY2007 with funding from the Japanese government's Asian HRD Fund—gave presentations on their studies which are due to end this March.



The students gave presentations on three categories: "Life and Study", "Internships and Job Hunting" and "Goals for the First Year after Employment". In their presentations, the students gave underclassmen advice on student life and attitudes toward study and urged them to participate in internships as "invaluable opportunities to foster an understanding of Japanese society". In particular, they defined internships as a means of understanding Japanese companies, improving Japanese language ability, expressing oneself and building human networks.

At the end of the presentation, all 12 students sent a message of encouragement to the underclassmen: "Our learning environment cannot be taken for granted. It is a very enviable thing. Never forget to appreciate your situation and be sure to study hard." They concluded by reaffirming their determination to "give something back to society by achieving our dreams."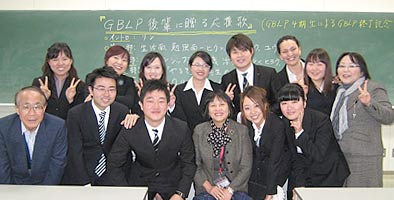 GBLP students are a select group of international students who aim to be the future business leaders of the Asia Pacific region and who will contribute to the development of the Japanese economy. In addition to regular APU subjects, they take original GBLP subjects, including seminars and internships, in their third and fourth years in an effort to acquire specialized knowledge in areas such as international corporate strategy, international trade, finance, and human resources management. With the "Creation of the Future of the Asia Pacific" as one of its founding ideals, APU will continue to provide high quality education and to produce global human resources.

Please click here for more information of GBLP.