World Students' Tourism Summit Official HP
The World Students' Tourism Summit commenced on Tuesday, November 8 and will conclude with the General Assembly on Sunday, November 13. Discussions will revolve around the theme of "Towards the Future of Tourism - Dynamic, Sustainable, and Boundless." This event is a collaborative effort between Oita Prefecture, Beppu City, and APU.
The summit commences with 'Tourism and Exchange Caravan Tours in Kyushu' and participants will travel on one of the four different caravan tours offered and experience first-hand the major tourist attractions in Kyushu. Afterwards the delegates will convene in Beppu City for discussions on pertinent issues associated with tourism in the 9 workshops held at APU between November 11 and November 13. A Students' Declaration will be compiled by the participants confronting the issues of tourism promotion from an academic perspective and presented on the last day of the summit at the General Assembly.
Prior to the summit, a 'Video Competition' was held which invited students to produce promotional videos of 'tourism' in their home countries/region. A 'Tour Plan Competition' was also held for students from Japanese universities to design model tours in Kyushu. A presentation of the excellent tour plans will be carried out during the General Assembly.
This international conference on tourism will merge the experience of prominent figures in the tourism sector with the power and fresh perception of the current young generation.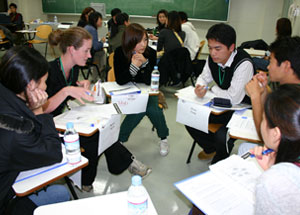 For more details please refer to the information below:

2005 World Students' Tourism Summit Outline
Summit Workshops

Video Competition
Tourism and Exchange Caravan