教育プログラム|学生生活|連携事業
Apr 12, 2011
On Friday, March 18, 2011, a ceremony was held to mark the end of the Global Business Leaders Development Program (GBLP). APU has been working to promote this program under the auspices of the Japanese Government-backed "Career Development Program for Foreign Students from Asia". The ceremony was held ahead of the APU Graduation Ceremony and marked the efforts of the twelve members of the fourth program intake. Surrounded by supporting friends, family, instructors and faculty members, the graduates marked a new step on their journey into the world.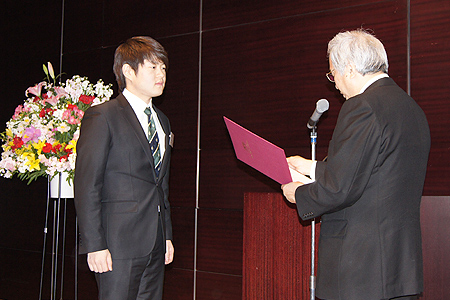 APU President KORENAGA Shun delivered the welcoming address, "The recent earthquake and tsunami continues to keep Japan in a state of crisis, but I am certain that the nation can overcome this challenge and rise again as a leader in science and technology. I hope that you will remain true to the APU spirit of 'freedom, peace and humanity' and I look forward to your future achievements". GBLP Promotion Committee Chairman and APU Vice-President, HIRATA Junichi then congratulated the students, "We are seeing increasingly more companies recruiting graduates directly from overseas. What employers seek in graduates such as yourselves is not only specialist knowledge; they also need you to become a link that can link foreign workers with Japanese society. Please make the most of the knowledge you have gained at APU in your future life in a Japanese company and Japanese society". President KORENAGA then presented each of the students with their completion certificate.

Each of the recipients then gave a short speech. LEE Ji Young (APM4, Korea) said, "The social situation in Japan is rather harsh but we will do our best to overcome these challenges as members of Japanese society". PAK Andrey also expressed his gratitude, "I have been able to enjoy some wonderful experiences thanks to the help of my many supporters. Thank you all very much for your support".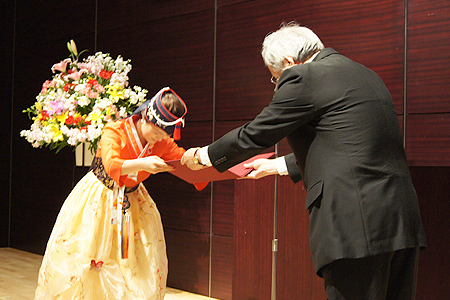 GBLP students are a select group of international students who aim to be the future business leaders of the Asia Pacific region and who will contribute to the development of the Japanese economy. In addition to regular APU subjects, they take specialist GBLP subjects, including seminars and internships in their third and fourth years (16 credits). We look forward to their achievements on the international business stage.

*The Global Business Leaders Development Project (GBLP)
The GBLP, as proposed by APU, was adopted into the Ministry of Education, Culture, Sports, Science and Technology (MEXT) "Career Development Program for Foreign Students from Asia". Designed to improve the international competitiveness of Japanese businesses, this program accepts exceptional students with a strong desire to seek employment in Japanese businesses from throughout Asia and equips them with specialist knowledge and Japanese language skills. The program seeks to nurture globally-minded graduates with the ability to bridge Japanese business with the rest of the world.

Please click here for more details on the GBLP program.