教育プログラム|学生生活
Apr 18, 2011
On Wednesday, March 30, 2011, an orientation session was held for the thirty-two new exchange students and study abroad students who began their studies at APU this spring.

After a welcome speech from the Associate Dean for Academic Affairs, Dr. ARII, the students took part in different sessions concerning academic life here at APU, life in Japan, and enjoyed a campus tour.

On Sunday, April 3, 2011, a Welcome Picnic was held at Takegawara Onsen where students interacted with their APU buddies - APU students who will be supporting the new students throughout the semester.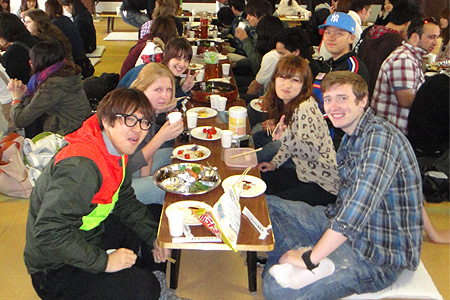 In addition to the nine study abroad students, the twenty-three exchange students have come to APU from nine partner universities in eight different countries and regions around the world including Japan. Added to the number of exchange students who came last year, this brings the total to fifty exchange and study abroad students from fourteen different countries and regions currently studying on campus (39 exchange students from 22 partner universities and 11 study abroad students).

We hope that your life here at APU and Japan is fulfilling and exciting for all of you!