On Friday, April 1, the 2011 Professor Emeritus Title Conferral Ceremony was held at the B-con Plaza Conference Room in Beppu City ahead of the Spring Entrance Ceremony. College of Asia Pacific Studies Professor KEE Pookong and College of International Management Professor NAMBA Masanori were awarded the title Professor Emeritus by APU President KORENAGA Shun.

Dr. KEE came to APU in October 2002 as a Professor at the College of Asia Pacific Studies and has since made a considerable contribution to student education and research. From April 2005, Dr. KEE served for three years as Director of the Ritsumeikan Center for Asia Pacific Studies and Vice-Dean of International Cooperation and Research in addition to supervising PhD students following the opening of the Graduate School. Dr. KEE has also made an enormous contribution to the annual Asia Pacific Conference and APU's goal of becoming a centre for research in the Asia Pacific Region.

Fellow Professor Emeritus, NANBA Masanori came to APU in April 2002 as a Professor at the College of Asia Pacific Studies before shifting to the former College of Asia Pacific Management (the current College of International Management) in April 2006. Becoming Dean of the College of International Management in March 2009, Professor Emeritus NAMBA has contributed greatly to the development of APU. As a member of the Asia Pacific Innovation Management Center (AP-IMAC), founded in December 2008, NANBA Masanori has conducted research under the theme of "Japanese-Style Innovation Models" and, through sharing his research findings, has made a considerable contribution to the development of the industrial sector in Oita Prefecture.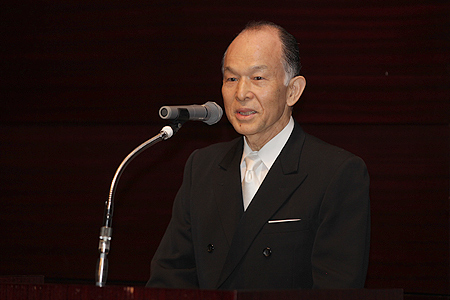 The title of Professor Emeritus is conferred in accordance with the Ritsumeikan Asia Pacific University Professor Emeritus regulations to those who have achieved outstanding education and/or research results for the university. Professor Emeriti KEE Pookong and NAMBA Masanori are the 7th and 8th people to receive this title from APU.

The title of Professor Emeritus has previously been awarded to:
1. SAKAMOTO Kazuichi, Professor Emeritus
2. JIDO Yuji, Professor Emeritus
3. KOHGA Mitsuhide, Professor Emeritus
4. OGATA Masakatsu, Professor Emeritus
5. FUKUI Hayao, Professor Emeritus
6. HATADA Nobuyuki, Professor Emeritus