On Wednesday, April 27, 2011, the Ambassador and Extraordinary and Plenipotentiary of the Socialist Republic of Vietnam to Japan, Nguyen Phu Binh visited APU and met with APU President KORENAGA Shun, Vice-President HIRATA Junichi, and Associate Dean of Admissions, Prof. Nariman DAHLAN. The Ambassador was accompanied by his wife Le Thieu Ngan, and the Consul General of the Socialist Republic of Vietnam in Fukuoka, Vu Huy Mung.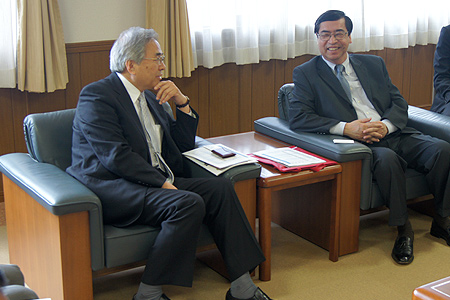 During their discussion, Ambassador Nguyen commented that "There is very little information available in Vietnam about the recent earthquake and incident at the nuclear power plant and rumors have spread that the entire country is being affected. This is the time for us to stamp out these rumors and provide people in Vietnam with accurate information about what is actually going on in Japan". In response, President KORENAGA introduced some of the features of APU and commented that "APU has over 200 students from Vietnam and they have a brilliant academic track record. I look forward to seeing even more Vietnamese students come to APU in the future". The Ambassador replied: "there is a great deal of interest among Vietnamese students to study in Japan and in the next few years we aim to increase the number of Vietnamese students in Japan to over 7000. Your university has removed the Japanese language barrier for our students and I am very keen to see even more Vietnamese students studying at APU".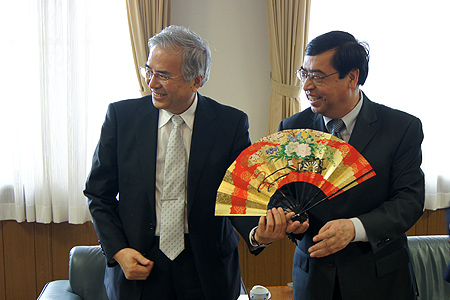 At the conclusion of their discussion, the Ambassador presented President KORENAGA with a Vietnamese water colour painting. The Ambassador and entourage then met with a group of Vietnamese students before enjoying lunch at the APU Cafeteria.

There are currently 229 Vietnamese students studying at APU at the graduate and undergraduate levels (as of November 1, 2010). Over the last few years APU and Vietnam have developed a strong relationship through a range of initiatives including a culture exchange program organized by the APU "Explore Vietnam" Student Circle in August 2010. We look forward to an even stronger relationship in the years ahead.
During his stay at APU, the Ambassador also wrote a letter and presented it to the University. The letter has been translated into Japanese and English and is available in the following languages.
Vietnamese (original text)
English
Japanese