Malo Lelei, Aloha, Kia ora, Good Day, Halo, and Talofa Lava!
This week at APU students from Oceania are organizing a fiesta performance and other events as part of the ongoing series of mulit-cultural weeks that take place throughout the academic year. Here is what the organizing committee would like to tell you about the upcoming event.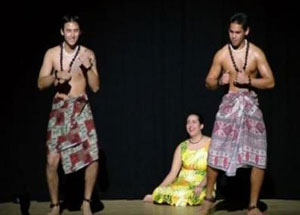 We, the Oceania Week organising committee, would like to cordially invite all the staff and students of APU and the general public of Beppu City and Oita Prefecture to celebrate with us this year's 2005 Multicultural Performance of the Pacific Warriors. We would like to welcome you to the pride and warm hearts of the Oceania People.
This year's celebrations will be opened with the first ever performance of the "Fire Dance". Please come along and enjoy this "first" at APU.
During Oceania Week you will have the chance to enjoy and experience, while still in Japan, the ethnic background and uniqueness of the many cultures that are in the Oceania region. A special performance will be held in the Millennium Hall, which will include various acts and cultural music from six different countries including Papua New Guinea, Tonga, New Zealand (Aotearoa), Australia, Hawaii and Samoa. Please join us for the Haka, Poi Dance, Siva, Sasa, Taualuga, Group Dance and Hula.
Come and experience the essence and the beauty of the Oceania people sharing with you their culture and their warm hearts. For details please refer below:
Multicultural Performance of the Pacific Warriors
Date:
Friday, December 16
Place:
Millennium Hall
Time:
6:00pm to 8:30pm
Hope to see you there!!