On Friday, June 10, 2011, the Chinese Week "Grand Show" was held at the APU Millennium Hall. Around 800 audience members including APU students, professors and local citizens witnessed the first grand show of Multicultural Weeks 2011.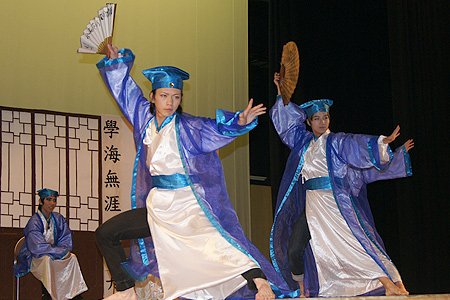 The theme for this year's show was "Die lian" (The butterfly lovers). It was based on the famous Chinese fairy tale, "Liang Shanbo and Zhu Yingtai." The story is about a girl (Zhu Yingtai) who falls in love with Liang Shanbo. She is forced to have an arranged marriage and her fiancé murders her sweetheart, Liang. She manages to escape from the wedding and joins her beloved Liang in his tomb. Later, two butterflies are seen coming out of the tomb – the spirits of Liang and Zhu.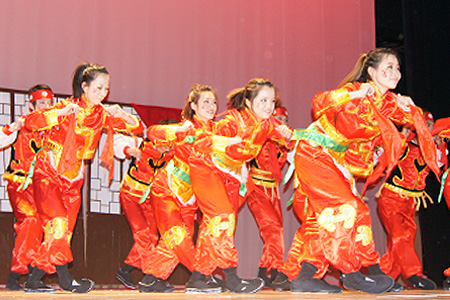 Various aspects of Chinese culture including the traditional martial art "Taijiquan", the "Kuazi" dance (dancing with chopsticks), as well as great acting from the main characters adorned the tragic story.

One of the main organizers of the event, LI Shao Yuan (APM1, China) spoke about the performance, "Unlike last year, we wanted to move the audience and bring them to tears with our performance. We wanted to escape from the usual pattern of dancing and singing. Also, I am very thankful to the audience who came to see us despite the heavy rain".


Over 150 participants (including 40 non-Chinese) tried their best to make a success of the performance and their efforts touched the hearts of the audience. RAH Saem (APS4, Korea) spoke her impression of the show, "It was my fourth time to watch Chinese week, and this year was the best!" .

Students from 81 different countries and regions are currently at APU, and Multicultural Weeks provides a great opportunity to gain an understanding of our diverse cultures.
Reporter, Student Press Assistant (SPA): KIM Yon Woo (APS4, Korea)