講演・シンポジウム|来学者
Jun 22, 2011
On June 14(Tue), 2011, Ambassador Yukio TAKASU delivered a special lecture titled "Diplomacy at the United Nations and Japan" at APU. This session was held as a part of the "International Organizations JA" course (instructor: Professor Kazuhiro FUJIMURA, APS).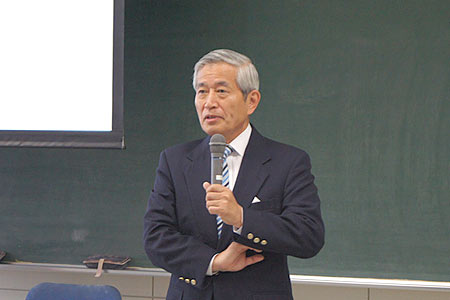 After joining the Ministry of Foreign Affairs in 1969, Ambassador TAKASU served mainly in the diplomatic field related to the United Nations and other international organizations. He was Ambassador Extraordinary and Plenipotentiary at the Permanent Mission of Japan to the United Nations from 2007 to 2010. Last December Ambassador TAKASU was appointed Special Advisor for Human Security to Mr. Ban-Ki moon, Secretary-General of the United Nations.
At the session Ambassador TAKASU began his lecture by explaining the internal/ external factors around Japan's diplomacy and the diplomatic goals that Japan is pursuing. Then he talked about the challenges facing the United Nations in the world of the 21st century and the role of Japan's diplomacy for each of them. Based upon his own experiences as Permanent Representative of Japan to the UN, including the Presidency of the Security Council as well as the Peace Building Commission, Ambassador TAKASU stated that during his tenure in New York he had attached importance to making most use of the UN for the national interests of Japan, to clearly making case for Japan in order to get her positions across to the world as well as to showing leadership in working to craft solutions to a variety of issues in the globe. Furthermore he referred to recent trends in the United Nations today such as Human Security that is gaining importance, peace-building, peacekeeping operations, disarmament and non-proliferation and reform of the Security Council.
This special lecture attracted an audience of more than two hundred. A number of students proactively asked questions. On the session there were comments from students that said, "Ambassador TAKASU has given us explanations on the UN activities and challenges so concretely that I can clearly understand the importance and difficulties of multilateral diplomacy," "I feel proud to learn Japan's activities at the United Nations by listening to today's lecture".

The special lecture of Ambassador TAKASU was a very good occasion for APU students who are strongly concerned with the world affairs and international cooperation to get to know what is actually taking place on the front line of multilateral diplomacy.