From Sunday, June 12 until Wednesday, June 15, 2011, the Thai national volleyball team took part in a training camp at APU. This was the team's second training camp at APU following their previous camp in 2008.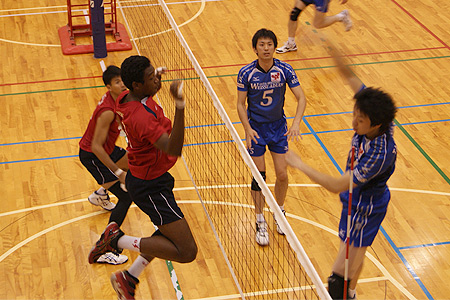 On Monday, June 13, the team played a friendly match with local Oita professional volleyball team, "Weisse Adler", at the APU Gymnasium. Both teams have enjoyed exchange and interaction with each other in the past. The game was open to the public and was well received by the many APU students and local citizens who came along to support the teams.

This camp was the team's final preparation prior to participating in the "23rd Asian Pacific Cup Men's Volleyball Games" held in Fukuoka City from Friday, June 17. The team trained at the APU Gymnasium and was accommodated at AP House. Members of both the APU men's and women's volleyball teams offered the visitors their full support from accommodation through to practice.
Reporter, Student Press Assistant (SPA):ISSHIKI Kosuke(APS,Japan)