講演・シンポジウム|来学者
Jun 23, 2011
On Wednesday, June 8, 2011, a Social Outreach Seminar was held at APU under the theme of "Human Rights Abuse in Somalia" by UENO Mayumi, a Counter Trafficking Project Officer at the IOM* International Organization for Migration, Somalia Support Office.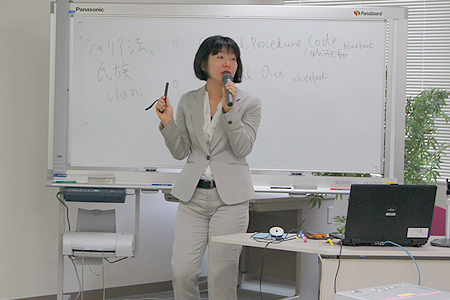 During her presentation, Ms. UENO used images and footage of Somalia to describe the issues facing the nation including human trafficking, human rights abuse, political corruption and attacks on commercial shipping by pirates. She also described the continuing civil conflict, how it is affecting the local population and also the many people who are w
orking hard to lead normal lives despite the conditions.

The cause of these problems, Ms. UENO cited, lay in the lack of civil law, links with international society and educational institutions. She also raised possible ways to tackle these issues including the development of police organizations and raising international society's interest in the current situation. For this to take place, she continued, the support of international organizations and NGOs is vital.

The venue was filled beyond capacity with students interested in the issues facing international society many of whom raised questions about the position of women in Somali society, issues surrounding the movement of people to neighboring nations, and more.

At the conclusion of the session, Ms. UENO offered the audience a few words of advice: "Please do not spend your time just accumulating knowledge, rather try to develop the skills you need to apply what you have learnt to the problems facing the outside world".

*About the International Organization for Migration (IOM)
The IOM is an international organization that specializes in global migration issues. Under the principle of "promoting humane and orderly migration for the benefit of all", the IOM is engaged in projects ranging from the provision of direct support to individual migrants, technical assistance at a national level, and the promotion of regional cooperation to tackle migration issues.
Reporter, Student Press Assistant (SPA):YAMAMOTO Hiroki (APM1, Japan)