On Wednesday, May 25, 2011, nine APU international students were appointed as International Exchange Advisors to Saiki City at a Certificate Presentation held at APU.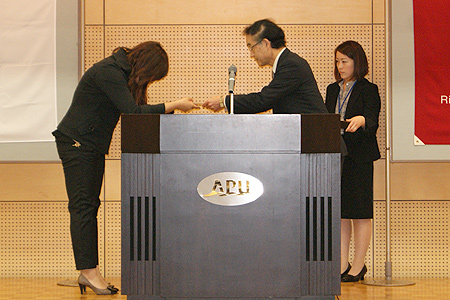 The ceremony was attended by Superintendent of the Saiki City Board of Education, Mr. BUNDO Takashi, along with Saiki City's primary and high school principals who are actively involved with APU exchange activities. APU President KORENAGA Shun and other APU representatives were also in attendance.

Certificates were handed to each of the new student advisors by Mr. BUNDO who then followed with a speech in which he congratulated the students on making it through the very competitive selection process. He also commented that "I hope that the new advisors will not only teach English but also their culture and traditions to our children who are looking forward to meeting you. I have high expectations for the advisors and hope that you will interact with our students during lunch time and out of class whenever possible".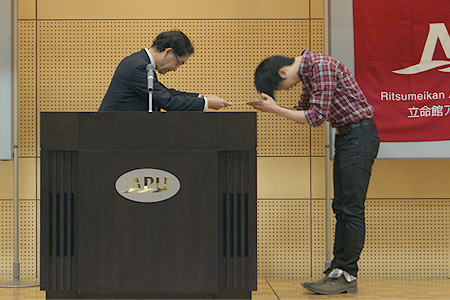 APU President KORENAGA Shun addressed using Japanese, English and Chinese. "Being a Saiki City International Exchange Advisor is a great opportunity not only to experience the Japanese lifestyle first-hand, but also to interact with Saiki City children as an ambassador of your home country or region and share your knowledge with them".

After the new student advisors received their certificates, they introduced themselves, expressed their gratitude to Saiki City for selecting them and offering them the opportunity to work with them.

APU signed a Friendship Exchange Agreement with Tsurumi Town (now Saiki City, Tsurumi) in July 2003 and Kamae Town (now Saiki City, Kamae) in April 2004. Following the amalgamation of local municipalities, a subsequent agreement was signed between APU and Saiki City in July 2006. With this agreement, the exchange advisor program with both towns became the "Saiki City International Exchange Support Advisor" program.

The cultural advisors will visit elementary and junior high schools in Saiki City, approximately 10 times throughout the 12 month period and provide their support to international exchange projects. Held in high regard by participating school teachers and headmasters, these projects aim to develop the students' understanding of international society and improve their intercultural communication skills.

The AY 2011 International Exchange Support Advisors:

ZHOU Feng (APM3, China)
HA Se Ra (APM2, Korea)
LIN Jie (APS3, China)
WU Sha-Lin (APS4, Taiwan)
YANG Shuang (APM3, China)
JEONG Won Sik (APM3, Korea)
PANDITANEGARA Amelia (APS3, Indonesia)
YANG Sihui (APS3, China)
Reporter, Student Press Assistant (SPA):VEGAFRIA Elaine Cruz (APM2, Philippines)