From Monday, May 16 until Friday, May 27, 2011, a total of thirteen public officials from various African countries came to APU for a JICA-commissioned training program entitled "Community Capacity and Rural Development – Focusing on One Village One Product – for African Countries (A)". The officials, who work in government agencies such as the Ministry of Industrial Affairs and Ministry of Regional and Local Government, participated in the training for almost two weeks.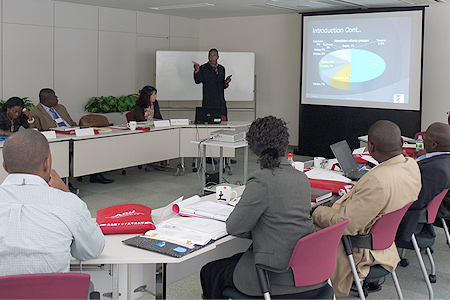 This training program was based on the concept of "capacity development" and aimed to help participants stimulate rural development by successfully making One Village One Product programs around Africa. This is the second installment of training that began in April, and included administrative officials from Botswana, Cameroon, Ghana, Namibia, Tanzania, Zambia, and Zimbabwe.

In addition to lectures covering theory, evaluation, and case studies of community development, trainees participated in lectures and on-site visits in Oyama-Machi and other locations around Oita Prefecture. They also learned about Beppu Hatto Onpaku, after which they experienced the program first hand. Furthermore, they took part in a field study in Soja City, OKAYAMA, to learn about the development of the "Onpaku Approach".

One of the trainees, Mr. AMUNIME Joseph (Development Planner Directorate of Rural Industrialization, Ministry of Regional and Local Government, Housing and Rural Development), gave a speech at the closing ceremony during which he offered his condolences to those affected by the recent Great East Japan Earthquake and reflected on the training session. "This training helped me learn the importance of people in communities working together, and the leadership needed to achieve this".

After being commissioned by JICA in 2006, APU has received program trainees from all over the world. Recently there has been growing demand for regional development based on the One Village One Product Movement. A further training program for Asian countries will be held in June.