On Friday, July 17, 2011, the Thai Week Grand Show, "The Siam Renaissance", was held at the APU Millennium Hall. Many people came along to watch the show and it proved to be a hit with each section of the program receiving rousing applause and cheers from audience.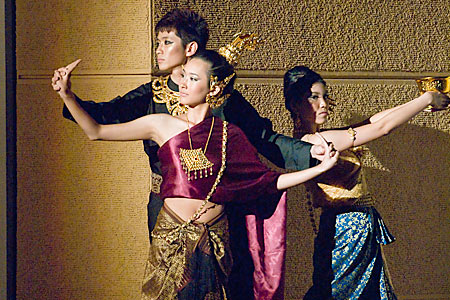 Following the story of a modern girl who was drawn into an antique mirror that takes her back in time to 1890's Bangkok, the Grand Show included eight performances that combined both traditional and modern Thai culture including contemporary Bangkok dance, Muay Thai, Thai silk dancing and a fashion show.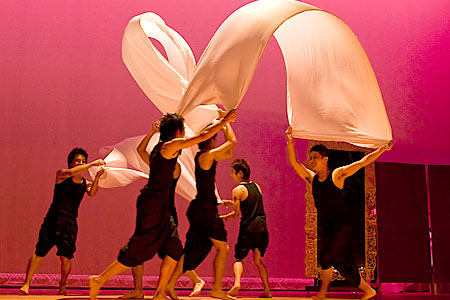 Many local citizens also came along to enjoy the show including Mrs ITO and her family. She spoke of how she was impressed by the splendid attire and brilliant performances, and how she is looking forward to watching the show next year too.
Thai Week leader THANGPAIBOOL Saralee (APS4, Thailand), commented on the show, "We tried our very best to prepare a wonderful show that everyone would enjoy. During this process, I gained news friendships and time management skills. I hope that this event has given people the opportunity to know more about Thailand".
Audience member, WU Lin (APM1, China) gave her expressions of the show, "I was impressed by the traditional Thai sword dance. I saw lots of my friends onstage and they gave a new insight into Thailand. Their performance has motivated me to join Thai Week next year".

Thai Week was the last Multicultural Week of the 2011 spring semester. This semester's six weeks, namely, Chinese, Vietnamese, Myanmarese, Korean, Indonesian and Thai, have helped to share some of the world's exotic cultures with APU and the local community alike. Please look forward to the upcoming Multicultural weeks planned for the next semester.


Reporter, Student Press Assistant (SPA): ZHAO Ruixi (APM2, China)