From Saturday, July 30, until Monday, August 1, 2011, one-hundred and four 3rd year high school students from around Japan took part in the three-day/two-night APU Summer Camp 2011. During the camp, participants enjoyed living and studying alongside APU international students, discussing current global issues and the future of international society.
During the three-day camp, the participating high school students stayed at AP House, attended lectures by university faculty and, with the help of student teaching assistants, worked towards delivering presentations on the final day of the program based on their time and studies at APU.

Of the initial 21 groups, four made it through to the final presentation round. Four group prizes and six individual prizes were awarded by the faculty member in charge of this program, Associate Professor Nariman DAHLAN, together with a memento.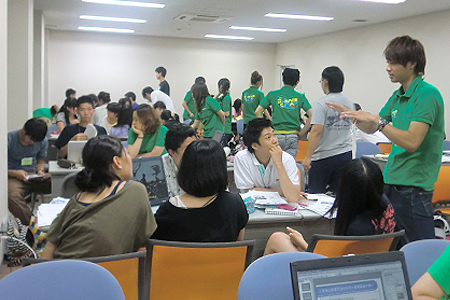 Some of the participating high school students commented on their time on the program: "The three days I spent here has been a great learning experience that has taught me the skills I need to prepare a presentation, from choosing and defining a research theme, collecting and analyzing data, and delving into the issues". "Meeting and living with fellow students from around the country has taught me how to acknowledge and respect different opinions and values systems".

We look forward to meeting the participants again at APU in spring next year.