On Saturday, July 16, 2011, a Career Advisor Meeting was held at APU. The event welcomed thirty-one alumni members from a range of nationalities including Japan, China, Indonesia, Taiwan, Kenya, and Sri Lanka employed in a diverse range of industries across Japan. The graduates shared their experiences and career outlooks and offered advice to students looking to work in Japan.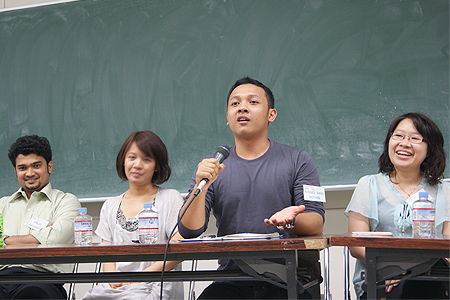 After a general reception, a panel discussion and counseling session followed during which the graduates shared their real life stories as students in APU, and the transition from school-life to a work environment - a timeline of unforgettable experiences, with many highs and lows. They first outlined the process of identifying career goals, finding a job and the resulting challenges and personal growth.

APU graduate and current APU employee, Eugene WANYAMA (APS, fall'05, Kenya) gave his advice on choosing the right company, "Be sure of the kind of company you want to work for. For even if you climb the ladder of success, it's pointless if that ladder is propped against the wrong building".

Financial consultant at PricewaterhouseCoopers, Wenda GUMULYA (APM Grad, fall`06. Indonesia), advised students to "try to set yourself a goal and stick with it. Look at where you are, where you want to go with your career and then try to fill in the gaps. Never give up on your dreams".
The alumni strongly advised students to take advantage of the support of the Career Office, build a network with former graduates, and build a strong understanding of what you want to achieve in the future.

At the counseling corner, students and graduates freely discussed topics of interest - ranging from differences in work environments of Japanese and global enterprises, to the benefits of internship experiences.

The event proved very valuable to current students including Maria Yossie Natassia (APM 3, Indonesia) who commented, "The alumni shared many impressive experiences, and I was able to build a good network with them".
Reporter, Student Press Assistant (SPA): SETHURAM Shyamala(APM3, India)