教育プログラム|学生生活
Aug 17, 2011
On the weekend of August 6 and 7, 2011, the APU Summer Camp and study program was held for international students studying at Japanese language schools aiming to continue their studies at Japanese universities. Held for the first time, this program welcomed students of eight different nationalities including Norway, Bangladesh, Vietnam and China, studying at Japanese language schools in Fukuoka, Kumamoto and Kobe, and one Japanese language instructor.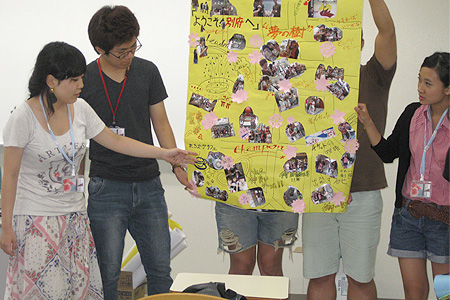 During their time on the program the participants took part in a range of activities including a mock lecture by Associate Professor at the APU Education Development and Learning Support Center, SHIN Kimie. The students also took part in Japanese group discussions, experienced what it is like to study at APU, and enjoyed a tour of the campus guided by APU students. They also took part in a workshop with APU graduates at the Beppu-Project NPO and an orienteering activity around Beppu City.

The students stayed at the APHouse student dormitory and were given an introduction to dormitory life by Resident Assistants (RA) that offered them a greater idea of what student and dormitory life is like at APU.

A number of participants commented on their time on the program: "I got the impression that APU students are very eager to learn which was really motivating". "The local community seems so friendly; I can really imagine myself living here". "The group work was a great experience. I will give serious thought to continuing my study at this university".

With students from over 80 different countries and regions around the globe, APU has developed a truly multicultural and multilingual campus environment.

As Japanese language proficiency is not a requirement for international students wanting to study at APU, many of our students first begin studying Japanese after they arrive here. Through intensive Japanese language instruction, making friends with Japanese people and becoming a member of the local community, students are able to rapidly improve their Japanese skills. With a high level of Japanese proficiency, our graduates continue to gain the attention of potential employers and many of our international graduates have remained in Japan and developed careers on the frontlines of international business.