On Monday, August 1, 2011, an international seminar was held at the Tokyo New Otani Hotel under the theme of "Project Finance for Overseas Infrastructure Development through BOT/PPP Schemes". This seminar was hosted by the Institution for Transport Policy Studies (Japan Institute of International Affairs) and APU. Representing a range of government bodies, international organizations and academic circles, a total of about 230 people came along and easily exceeded the expected turnout of 150. Participants came from a wide range of sectors including the Nippon Keidanren and the financial, transportation and manufacturing sectors.

Keynote speeches at the first lecture session were delivered by APS Professor TSUKADA Shunso; Senior Investment Officer at the International Finance Corporation, Mr. Rajeshi Sinha; and Stanford University Consulting Professor, Gary GRIGGS. Each speaker approached the issue of securing finance for foreign infrastructure through "Public, Private Partnerships" (*1) and the "Build Operate Transfer" (*2) model from the point of view of financial institutions, the business operator, and the host government.

A panel discussion was then led by Prof TSUKADA who joined the aforementioned keynote speakers in addition to the Head of the Transportation and Telecommunication Finance Department at the Japan Bank for International Cooperation, Mr. KUROISHI Kuninori; and Corporate Officer at Sumitomo Corporation, Mr. YAMAZAKI Aya. The discussions surrounded the future strategy that Japanese business should take moving forward in the overseas infrastructure market.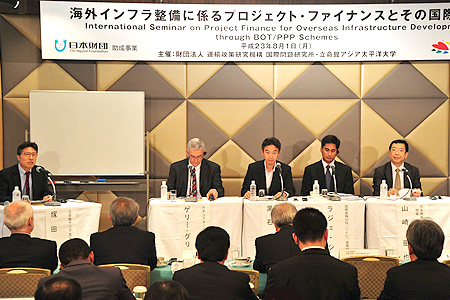 Held in both English and Japanese, the seminar panel attracted a number of questions from the audience and unfolded into a lively discussion illustrating the high levels of interest that the business and industrial sectors have in these issues.
A concluding remark was offered by APU President KORENAGA Shun who spoke about Japans relationship with China and the influence that this has on the decision making process.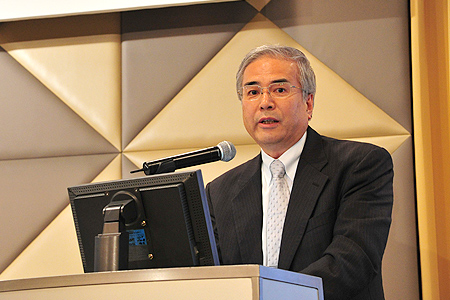 *Project Finance
Typically, funds for a new project are arranged by using the company's financial position or assets as security (corporate finance). However in the case of project finance, since such security is not provided, the whole funds have to be arranged based on the future revenue flow to be generated by the project concerned.
*BOT (Build, Operate, Transfer)
BOT involves the completion of building projects by government authorized private businesses which then manage and operate the facility for a set period of time. The facility is then transferred back to government control.

*PPP (Public, Private Partnership)
In general terms, PPP involves aspects of the private and public sector working in partnership on a project. In this case, the public sector provided a percentage of the required investment funds and a guaranteed minimum income, making it easier for private sector businesses to join the above BOT project. Such PPP initiatives have made possible an ever increasing number of overseas infrastructure projects.