On Tuesday, August 9, 2011, a presentation was delivered at the KUMON Institute of Education head office in Osaka by ten APU students who completed an internship-style workshop series held jointly by APU and KUMON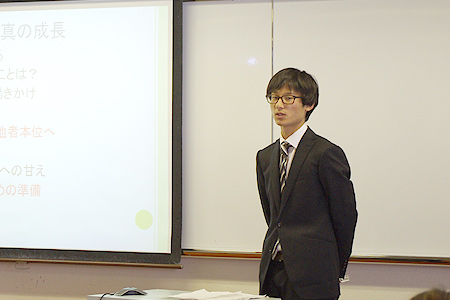 Begun in autumn 2010, a series of learning support workshops have been offered by APU making use of Kumon learning materials. These workshops have been managed by APU faculty and students and teaching staff from Kumon. Through getting involved in the management of these workshops, APU students are offered an internship-style learning experience through teaching and classroom management, interaction with students, implementing the "Kumon Way" teaching method, and classroom and practical training.

During the presentations, students offered a range of proposals, based on the knowledge they gained through this experience, for how to better publicize the project and provide better support to class-taking students. Over fifty Kumon employees attended the presentation and offered the students a range of practical advice and feedback.

Participating student, NISHIDA Chiharu (APM2, Japan), commented on the presentation, "This program gave me the opportunity to learn many things that we can't experience in normal classes. We were also able to get a lot of helpful feedback from Kumon staff members during the presentation sessions. I am sure that this experience will help us in the job hunting process and beyond into our future careers".

APS Professor KONDO Yuichi was in charge of the workshop and commented on the students' development: "The unique internship-style classes we have developed at APU in collaboration with business partners allows students to immediately put into practice what they have learnt. Students who took these classes learnt of the challenges involved in working in a team and responding to the needs of their students. This has taught them to have a sense of responsibility and was a great opportunity for them to develop and start thinking seriously about their future career. I hope that more people will take advantage of the opportunities these classes provide".