On Tuesday, September 6 until Tuesday, September 13, 2011, members of the "IVUSA APU" volunteer circle joined student volunteers from around Japan as part of a clean-up initiative in disaster and tsunami-struck Kessenuma City, Miyagi Prefecture. A total of 350 students from around the country assisted with the clearing of debris, moving household items, and much more.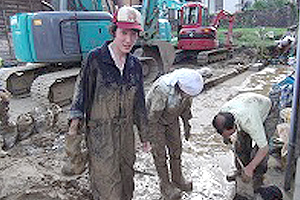 This initiative was made possible through the efforts of the International Volunteer University Student Association (IVUSA), a non-profit trust engaged in international cooperation, environmental protection, disaster relief, social welfare, and other volunteer projects. The 350 volunteers came together primarily from IVUSA branches around Japan including four members of IVUSA APU and 12 APU students who also brought together four students from Kumamoto University and Osaka International University.

Participant and APU student, TONG Van Anh (APM4, Vietnam), commented on the project, "Travelling to the disaster zones and actually seeing with my own eyes the empty land where once a town stood was a very moving experience. Having said that though, after seeing the resilience of the locals and how they continue to work together with such steadfastness, I am sure that these towns and cities will be rebuilt. Taking part in this project has reaffirmed my respect for the Japanese spirit".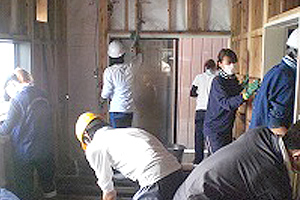 Representative of IVUSA APU, IMI Ayano (APS3, Japan) commented on the project and her aspirations for the future, "Many APU students approached us saying that they wanted to volunteer in the clean-up so we decided to recruit participants from the student body in addition to circle members. As a result, we brought together a wide range of people to work together with us. In addition to the clean-up, we were also able to interact and share our thoughts on the reconstruction process with members of the local community and fellow volunteers from other universities. In the future, I hope to strengthen and expand the connections we've made with the local community to provide further care and assistance to meet their individual needs".

Established in 2008, IVUSA APU is the only IVUSA branch in Kyushu and continues to utilize the long vacations to get involved in a wide range of projects including domestic and international volunteer projects in collaboration with community support groups for the disabled, and much more.