From Tuesday, August 2 until Saturday, August 27, 2011, thirty-two APU students from 14 different countries served as Camp Leaders in three KUMON English Immersion Camps organized by the KUMON Institute of Education Co., Ltd. This year too there were three camps in one summer with each camp lasting for 7 days, which marked the 11th year of Kumon English Immersion Camp (EIC) The camps were held in Hotel Biwako Plaza, Moriyama City, Shiga Prefecture. Two hundred and fifteen kids participated along with 32 camp leaders and camp staff.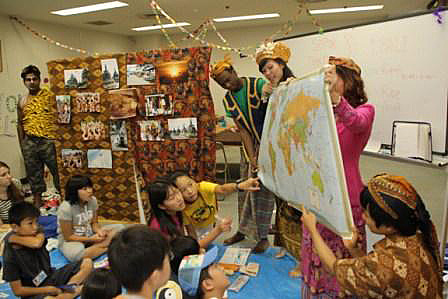 Following the EIC slogan of "Don't be afraid of making mistakes: Let's try communicating in English"; camp leaders supported and encouraged the participating children towards using English as the medium of communication during the entire seven-day camp. Various activities and programs were held and conducted by camp leaders which allowed the children not only to practice their English skills, but also to experience different culture and traditions of the camp leaders and learn more about international issues such as poverty and global warming.
The children also took part in a range of different projects aimed at raising their awareness of social problems. "Well Done Points", for example, were handed to students every time they did a good deed. This year the children collected 6,773 well done points which the Hotel Biwako Plaza management has agreed to convert the points into money that will help build water wells and buy stationery for underprivileged children in Sri Lanka. The money will also be used to support the education of children in Yamada Town, Iwate Prefecture - one of the places affected by the March earthquake. Students also brought along a total of 25,520 plastic bottle caps which will be exchanged by an NPO organization for at least 32 vaccinations for children around the world affected by polio.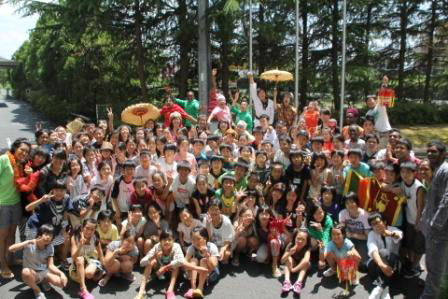 Participating as a camp leader for the first time, Charity Laone TSIMAKOKO (APS1, Botswana) shared her feelings on how the camp helped her as a person "I feel like I'm a totally transformed individual. This camp was truly an eye-opener for me, I have learnt great teamwork skills, the power of believing in each other no matter what, and the power of patience and persistence."
MUHAMMAD S.R, Fatemee (APM3, Bangladesh) who participated as a camp leader for the second time, also gave a few words "To me it was another new experience with new kids and the new camp team. Working with different kinds of people in a different kind of environment was challenging but we achieved success because we all shared the same goal of working hard for the benefit of the kids".
Earlier this year, the annual "KUMON English Immersion Day" was held on Sunday, June 19, 2011, at the APU Student Hall as a training event for the APU students chosen to be Camp Leader in the Immersion Camps.
Please click the following link for more details at the official KUMON English Immersion Camp website
http://www.immersioncamp.com/?lang=en
Reporter, Student Press Assistant (SPA):VEGAFRIA Elaine Cruz (APM2, Philippines)