On Saturday, October 15 and Sunday, October 16, 2011, the APU Habitat student volunteer circle joined forces with members of nine student branches of the Habitat for Humanity (Japan) Kansai Student Chapter. Coming together from a total of eight universities, the students launched a donation appeal in Beppu and Oita City in support of the Tohoku earthquake and tsunami disaster recovery.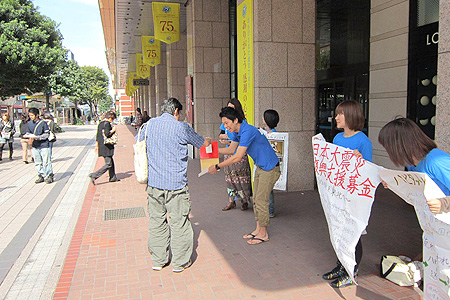 This project was made possible through the cooperation of nine Habitat for Humanity Japan (HFHJ) student branches from seven universities including Ritsumeikan University, Doshisha University, Kansai University, Kwansei Gakuin University. Together with Habitat APU – the only Habitat student chapter in Kyushu – the group planned and carried out a joint donation appeal in support of the Tohoku earthquake and tsunami disaster rebuilding process. Habitat for Humanity is an international NGO working towards providing and improving dwellings for underprivileged people around the world.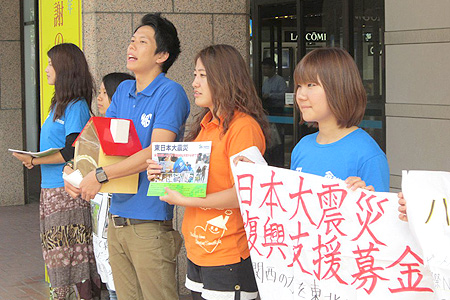 In addition to gathering donations, HFHJ displayed images of activities they have conducted, including those in which APU Habitat has been involved, aimed at improving living conditions in the disaster struck areas, such as the removal of debris and renovation of houses. Over the two-day appeal, a total of 30 participants raised a total of 161,767yen. Through this Kyushu-Kansai joint donation appeal, a total of 890,365yen was raised which will now be sent to the disaster areas via HFHJ.

Deputy Representative of the donation appeal, IKAI Chihiro (APS1, Japan), commented on the campaign, "Although seven months have passed since the earthquake, I realized that people in Kyushu continue to be concerned and willing to cooperate with the rebuilding efforts despite being so far away from the disaster zone. This two-day appeal reaffirmed my belief in the unity of the Western Japan Habitat Student Chapter, and the importance of our continued support.