From Sunday, November 6 until Sunday, November 20, 2011, the World Press Photo 2011 Exhibition will be held at the APU Convention Hall. This is the exhibition's only showing in Kyushu on its journey to over 100 cities in 45 countries around the world.
World Press Photo is an annual exhibition run by an Amsterdam-based non-profit foundation of the same name* and features approximately 160 award-winning photographs from the World Press Photo Content. Now in its 54th year, the exhibition is a showcase of some of the world's very best in photojournalism.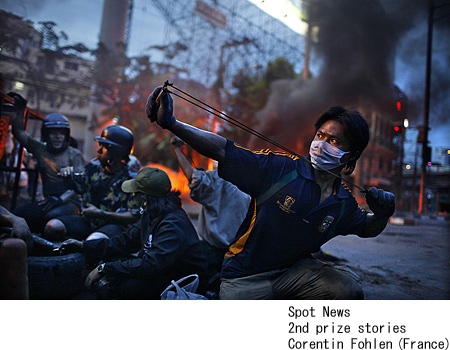 The exhibition features nine sections including news, sports, contemporary social issues, art, entertainment, and nature. This year the exhibition received 108,059 submissions from over 5700 photographers in 125 countries. The exhibition features approximately 160 images from 54 photographers including South African Jodi Bieber, winner of the World Photo Press Photo of the Year prize. Jodi Bieber captured the powerful image of an Afghan woman who had her nose and ears cut off by her husband at the order of Taliban militants. Other images include the Haiti earthquake, the armed clashes in Bangkok, the excitement of the world cup, and other snapshots of the world in 2010.
Opening on November 6 at the Tokyo Metropolitan Museum of Photography, the exhibition will be showing at Osaka, Kyoto (Ritsumeikan University Kyoto Museum for World Peace), Shiga Prefecture (Ritsumeikan University), and Beppu (APU). APU is the exhibition's only showing in Kyushu so we invite you to take this opportunity to experience this outstanding collection of images taken by some of the world's greatest photographers.
World Press Photo 2011-
Date/Time: 11/6 (Sun) - 11/20 (Sun) 10:00 - 17:00
(Last entry 16:30; No holidays during the exhibit period)
Venue: APU Building A, 2F, Convention Hall
Admission Fee:
Adults:500, High School Age and Under: Free
Sponsors:
Asahi Newspaper,World Press Photo, Kyoto Museum for World Peace, Ritsumeikan University, Ritsumeikan Asia Pacific University
*Free entry to APU students, faculty & staff upon presentation of ID card