講演・シンポジウム|来学者
Nov 9, 2011
On Thursday, October 27, 2011, Dr. Warren MIDGLEY of the University of Southern Queensland (Australia) delivered an RCAPS seminar under the theme of "Preparing for the future: Learning and Teaching for the digital age". During the seminar, Dr MIDGLEY discussed the future of technology in education and the results of an Australia-Japan interactive learning project involving IT and robots in primary school classrooms.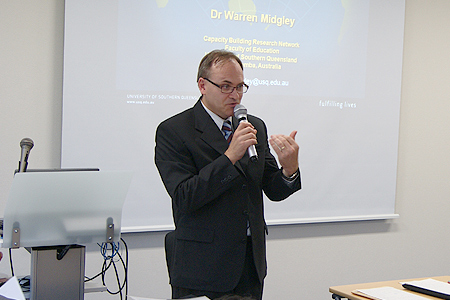 Dr. MIDGLEY began by discussing 'possible futures' for the planet – both positive and negative – including global warming and the continued pressure on the earth's limited resources. "At some point" he suggested, "we are going to have to choose a future for our society which is both attractive but also attainable. We then need to identify the decisions that must be made and prepare for the changes that will come". One of the major changes, he argued, will be the rapid development in information technology, especially in education.

"Our society is changing so rapidly that children studying in schools today will be doing jobs in the future that haven't even been invented yet. The question we are faced with as educators is: how do we prepare our students for this and what should we teach?"

Dr. MIDGLEY then introduced the results of his research project into the use of interactive information technology and robots in primary school classrooms. Through this project, primary school students had to work together to design and build a suitable track around which they then had to negotiate a wheeled robot. The track itself was designed by students in Japan but built by students in Australia. Then, using audio-visual and internet technology, students in Japan manipulated the robot around the track in Australia in real-time. Through this project, Dr. MIDGLEY suggests, the students had to familiarize themselves with the technology, overcome problems as they arose, and work together with students across the globe to complete the task. It is these kinds of skills, he suggested, that will serve them well in the future.

The lecture concluded with a Q&A session and many students took the opportunity find out more about the research project and the future of IT in education.