教育プログラム|学生生活
Nov 10, 2011
On Wednesday, October 19, 2011, student participants in the 2011 summer field study program shared their findings and discussed "Tourism Development between Japan & Iran." During their 15-day trip to Iran, the students visited four cities, Tehran,Yazd, Isfahan, and Shiraz, to research tourism opportunities from various viewpoints, including urban tourism, eco-tourism, and cultural/historical tourism. This study was led by APS Assistant Professor VAFADARI Kazem and his objective was to give students direct experience in the real world of tourism from a country (Iran) that is redefining tourism at this time.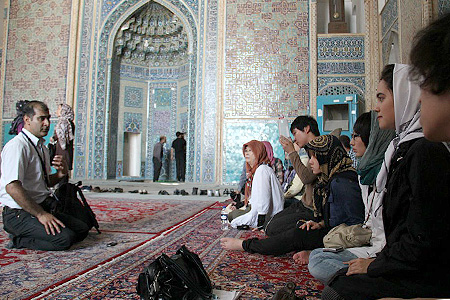 The presentation started with a briefing of Iran's current tourism industry and the level of travelers from Japan. The students stated that tourism activity between Iran and Japan could be increased immensely with effective promotional marketing. Due to the unstable conditions in the Middle East, there is often a misconception of Iran being a dangerous place. So the student's first strategy was to improve the image of Iran by promoting the country's "3,000 year old" history and culture.

The students then shared their first-hand experiences of the Persian culture with excitement and told the audience stories about their trips to famous Persian sites such as Pasargadae Palace. As for development, students suggested that translations should be available for tourists so they can appreciate the importance of these sites.
Participant LIN Chi-Hsuan (APM3, Taiwan) shared his impressions: "This was probably the only chance in my life to visit Iran. I was subject to the same misconception and stereotypes but my image of Iran now has completely changed."

This field study program is just one of many offered here at APU. Field studies are conducted twice each year on a variety of themes. Students are given the opportunity to carry out research and analysis based on various themes in Singapore, the U.S., Taiwan, New Zealand, and further afield.
Reporter, Student Press Assistant (SPA):ALTANBAGANA, Saruul (APM2, Mongolia)