講演・シンポジウム|来学者
Nov 11, 2011
On Thursday, November 3, 2011, Ms. MURAKAMI Atsuko (General Manager of the Finance Planning Department, Finance Division, SONY Corporation) delivered a Guest Lecture at the Graduate School of Management under the title of "Dealing with Corporate Financial Risk". Following her special lecture session last year and the RCAPS seminar two year ago, this was Ms. MURAKAMI's third presentation at APU.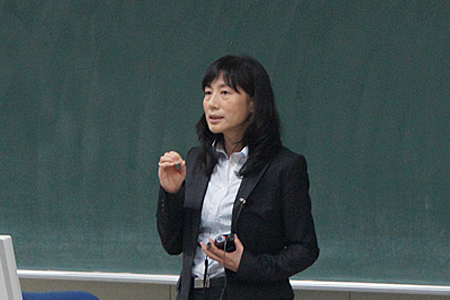 After introducing her current responsibilities at SONY, Ms. MURAKAMI began her lecture, based on her years of experience, about the importance of business management that takes into consideration the financial risks.

Ms. MURAKAMI explained in mentioning the earthquakes in the eastern Japan, the violent events in London and the floods in Thailand that companies are constantly exposed to risks such as natural disasters, cyber attack and other kinds of violence. In order to reduce these risks, she stressed, companies need to predict and identify such risks and have operation plans prepared for such contingencies.

At the conclusion of the session, students asked several questions about the impact that the continuing high value of the yen and the floods in Thailand were having on Japanese businesses. Ms. Murakami's lecture was a good opportunity for the APU students to gain a better understanding of corporate risk management.
Reporter, Student Press Assistant (SPA):NAGANO Yuta(APS3, Japan)