From Monday, October 3, until Friday, October 14, 2011, a total of 17 civil servants from Colombia, Ecuador, El Salvador and Peru participated in the two-week "One Village One Product Movement for the Andes Region" training course held at APU. Commissioned by the Japan International Cooperation Agency (JICA), this three-year program is now in its second year.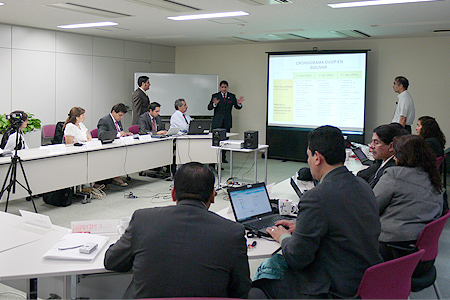 During the program, participants learnt about the theory, evaluation and case studies of 'community capacity development' (*1). The group also visited the township of Oyama in Hita City – a municipality actively engaged in the 'One Village, One Product' community development movement, and traveled to Soja City (Okayama Prefecture) to learn about the development of the 'Onpaku Model' for community-level urban development (*2).

OLMEDO LOAYZA Jorge Evelio (Ecuador, Executive Director of the Ecuador Provincial Government Consortium) commented on his experiences on the program, "I was very impressed by the way the Japanese people in rural areas take pride in their activities. We also want to lead our communities, develop leadership, and bring people to action".

Since being commissioned by JICA in 2006, APU has received JICA trainees from many countries around the world. Further training programs are scheduled for FY2011, welcoming trainees from Guatemala, Colombia and Nepal.

*1 Community Capacity Development
This process involves the improvement of local community skills to deal with regional issues at the individual, organizational and social level.

*2 the Onpaku Model
An abbreviation of "Beppu Hatto Hot Spring Expo", Onpaku is a community-level urban development project initiated in 2001 by Beppu City residents. The project aims to promote regional development centering on hot-springs.