講演・シンポジウム|来学者
Nov 21, 2011
On Friday, November 18, 2011, the 16th Top Executive Lecture was held at the APU Millennium Hall. This Top Executive Lecture was delivered by UTSUDA Shoei, Chairman of the Board of Directors at Mitsui & Co., Ltd, under the title of "Challenge – Making the best of your life".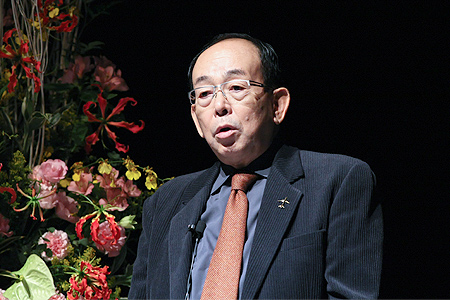 APU President KORENAGA Shun offered the opening remarks, "We live in an age where the spirit of frontier and challenge are needed more than ever. We also live in an age of enormous discussion and negotiation beginning with issues surrounding the TTP. In order to survive and prosper in such times, we must take pride in ourselves and be prepared to make our voice and opinions heard by the people we deal with".

Chairman UTSUDA then introduced Mitsui & Co., Ltd from its beginnings as an export-import company through to its current state as a global conglomerate with approximately 170 offices in 67 countries and regions around the world. Chairman UTSUDA also outlined some of the company's plans for the future.

Established as a general trading company in 1876 by MASUDA Takashi, Mitsui enjoyed success by quickly getting onboard with the globalisation of businesses. Chairman UTSUDA stated that, "the 1980's, some 30 years ago, marked the end of the monopoly on import, export and trade administration by general trading firms. During that time, our company began to create business and individually build up a new business model".
Chairman UTSUDA also commented on the current relationship between business and society. "Our planet is faced with enormous problems including overpopulation, and increased pressure on our energy, food and water resources. The current regulations on businesses make it difficult for us to do business and work towards solving these problems. In order for Japan to continue to globalize and maintain its position in the international marketplace, it is of upmost importance that we relax regulations".

At the conclusion of the lecture, Chairman UTSUDA offered a few words of encouragement to the audience: "Globally-minded recruits are vital to the growth of businesses. In order to be a globally competitive employee, I encourage you to take a close look at yourself, decide what you have to do, and take an interest in everything you do with a sense of curiosity".

Welcoming a leading figure from a global business or industry as guest speaker, the Top Executive Lectures are held as part of APU's Career Development Program in order to help students to have a clearer sense of direction and to support students as they shape their future careers.
Reporter, Student Press Assistant (SPA):ARAKI Yukari(APS3, Japan)