From Wednesday, November 23 until Sunday, November 27, 2011, "Book Festa Beppu 2011" was held in the Beppu City central shopping precinct. This 5-day event aimed to bring our community closer together through the "magic of reading" and is being held by the APU "Book Festa Beppu 2011" student organisation.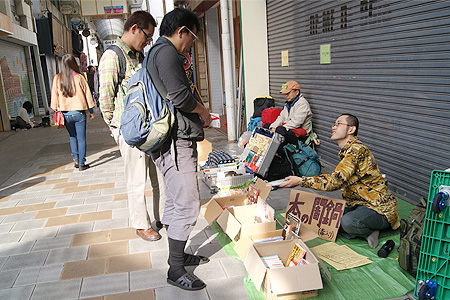 This event was backed by Oita Prefecture and was the winner of the student section of the Oita Prefecture "Town Vitalization Promotion Project" contest.

Starting at Platform 1 in the Sol Paseo shopping district, a range of novels, comics, and books of a variety of genres were on display. APU students, local citizens and book-sellers looked after the stalls and attended to eager visitors scouting for books.

An APU student guided tour was conducted on November 26 and November 27, introducing book-lovers to a number of quaint, cozy restaurants across the nearly 30 different locations identified as 'book-spots'. The 'book-spots' included a number of book stores, reading cafes, as well as second-hand book stalls in downtown Beppu - locations perfect for those who love to read. In addition, a live reading event and workshop by "Mr. Stevie" (Entertainer), and a talk session by guest speakers NANDARO Ayashige (editor/writer) and YAMASHITA Kenji (Manager, Gake Book Store), were organized on November 26th. A picture-book reading session was held by APU male students in addition to a workshop for those interested in creating attractive picture books.

ASAKO Chika (APM 4, Japan) and OCHI Kanako (APS 4, Japan), who were handling a second-hand bookstall, commented, "We were able to meet so many interesting people, and it has been an extremely eventful day."

The 2011 Book Festa Project proved to be a huge success, with book-lovers flocking in to enjoy new books, the company of other book-lovers, and a tour around the perfect spots to read.
Reporter, Student Press Assistant (SPA): SETHURAM Shyamala(APM3, India)