From Monday, December 5 until Friday, December 9, 2011, members of the "Table for Two APU" student circle offered a special range of dishes at the APU Cafeteria as part of the "Table for Two*" international food and health volunteer initiative. This was the group's second project at APU following their trial run in July this year.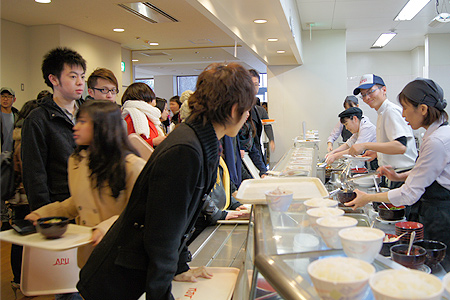 During this project, a special menu of Kimchi udon noodles, Japanese-style chicken rice, and vegetable curry was available at the cafeteria. All of these health-conscious dishes were under 650kcal and proved popular with customers, selling out quickly.

Group representative, KINOSHITA Yuto (APM2, Japan), commented on the project, "We were a bit unsure of ourselves at times, but we tried to ensure that things went smoother this time. Based on the questionnaires we administered after our trial run earlier this year, we found a number of areas for improvement that we tried to address. In the future we hope to continue this project and aim to bring a smile to the faces of our customers, the suppliers, and everyone else involved".

Table for Two APU are currently putting together a new menu that is scheduled to go on sale at the Cafeteria in January. Please look forward to more delicious and healthy dishes!

*Beginning in Japan, Table for Two International (TFT) is a non-profit organisation working to reduce poverty in developing countries and also address obesity and diet-related illnesses in developed countries around the world. For every healthy and low-calorie meal purchased from their special menu, 20yen (about the price of a meal in a developing country) was donated via TFT and put towards providing school lunches in developing countries in Africa and around the world.
Reporter, Student Press Assistant (SPA): KIMURA Kaori (APM2, Japan)