教育プログラム|学生生活|連携事業
Dec 20, 2011
On Wednesday, December 7, 2011, a GBLP Partner Industry Meeting was held at APU welcoming industry representatives supporting the Global Business Leaders Development (GBLP) Program. The GBLP began in APU in AY2007 as part of the government-backed "Career Development Program for Foreign Students from Asia".
GBLP Promotion Committee Chairman and APU Vice-President, HIRATA Junichi, offered the opening address: "With the ongoing appreciation of the Japanese yen and overseas expansion by Japanese companies, the demand for globally-minded human resources remains very high. In this sense, I am confident that there is real meaning in the GBLP and in our ongoing efforts to develop graduates, through industry-academic collaboration, with the kind of skills that will serve them well in the world of international business. I look forward to APU accepting even more outstanding international students and nurturing them into graduates who can reinvigorate Japanese businesses".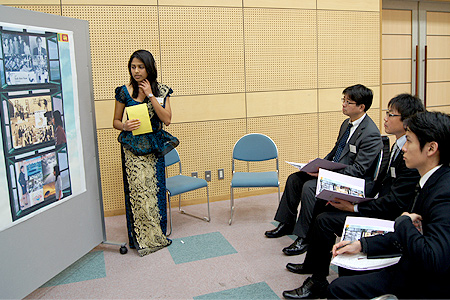 Each industry representative then reported on their initiatives for the current year, the employment statistics for members of the program's 5th and 6th program intake, and discussed future issues. Eight members of the program's 7th intake scheduled to graduate in September 2012 also delivered a presentation about how best to promote ourselves during the job hunting process. The students then invited questions from the industry representatives and were able to answer using their fluent Japanese language skills developed through their Japanese classes at APU. The students were then offered a few words of advice and encouragement from each of the industry representatives.

The GBLP aims to develop future business leaders who can contribute to Japan's economic development while leading the way in the Asia-Pacific region. In addition to standard APU curriculum subjects, 3rd and 4th students on the GBLP must complete an additional 16 credits including lectures and internships. GBLP graduates continue to be held in high regard by the business community for their Japanese business skills and knowhow. We wish them all the best for their future careers.

*The Global Business Leaders Development Project (GBLP)
Beginning in AY2007, the APU-proposed GBLP was adopted into the Ministry of Education, Culture, Sports, Science and Technology (MEXT) "Career Development Program for Foreign Students from Asia". Designed to improve the international competitiveness of Japanese businesses, this program accepts exceptional students with a strong desire to seek employment in Japanese businesses from throughout Asia and equips them with specialist knowledge and Japanese language skills. The program seeks to nurture globally-minded graduates with the ability to bridge Japanese business with the rest of the world.
Backed by the Japanese Ministry of Economy, Trade and Industry, and the Ministry of Education, Culture, Sports, Science and Technology, this program is scheduled to end in March 2012.