On Friday, December 9, 2011, the Sri Lankan Week Grand Show was held at the APU Millennium Hall and marked the end of the Sri Lankan Week installment of the fall semester Multicultural Weeks.
Making its first appearance at APU in five years, Sri Lankan Week featured a range of colourful events. The Grand Show started with a ceremony for the winners of the Wednesday, December 7 cricket tournament. A memento was presented to the winning Sri Lankan team and also to the runner-up Bangladesh Team.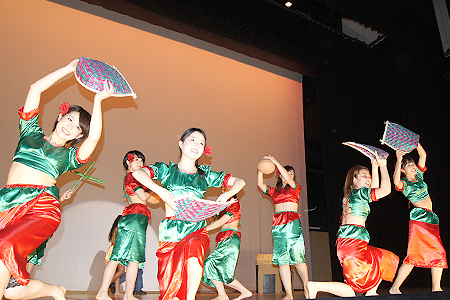 The show followed the story of a Sri Lankan-style wedding ceremony and featured a peacock-inspired "Mayura" dance and a "Puja" traditional dance, in addition to gorgeous modern dances and a colourful fashion show of traditional dresses.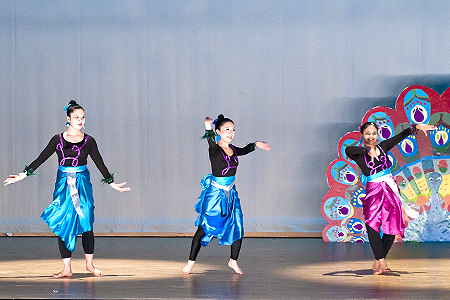 In between performances, students added a touch of humor to the proceedings by telling the story of a young man who travels to Sri Lanka to celebrate his friend's wedding, travels around the country, and ultimately falls in love with a local girl. The show proved very popular with the audience and got many laughs throughout.
Sri Lankan Week representative, ANANDAGODA Pubudu (APM4, Sri Lanka) spoke of his motivation to hold this event and expressed his thanks to everyone involved. "My brother participated in the last Sri Lankan Week and I have always wanted to get involved in this event just as he did. In the past we didn't have enough Sri Lankan students to hold an entire Multicultural Week and it was just great to be able to do it this year. The success of the event is thanks to the enormous assistance of the 30 Sri Lankan students, the 110 other student participants, and the many faculty, staff members and friends that gave their support".

Participating countries for the Fall Semester 2011 Multicultural Weeks are as follows:

Dec 5 (Mon) - Dec 9 (Fri) First installment: Sri Lankan Week (finished)
Dec 12 (Mon) - Dec 16 (Fri) Second installment: Japanese Week
Jan 10 (Tue) - Jan 13 (Fri) Third installment: African Week
Jan 16 (Mon) - Jan 20 (Fri), 4th installment: Taiwan Culture Week

NB: Footage of the Grand Show (held on the final day of each week) will be streamed live on the internet via Ustream. Please be sure to tune in and enjoy the colourful performances by APU's multilingual and multicultural students. (More information will be available on the broadcast times for each week as the event approaches).

Ritsumeikan-APU Ustream:
http://www.ustream.tv/channel/ritsumeikan-apu
Reporter, Student Press Assistant (SPA):ISSHIKI Kosuke(APS,Japan)