講演・シンポジウム|来学者
Dec 22, 2011
On Saturday, November 19, the 2011 Japanese Confucius Institute Association Conference was held at APU aimed at sharing information on the activities of each Confucius Institute over the last 12 months. Delegates from each Confucius Institute in Japan participated in this conference.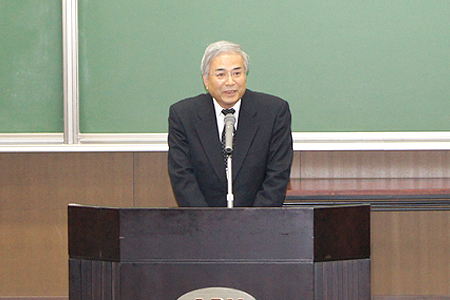 Following an address by APU President KORENAGA Shun, and also by Advisor to the Confucius Institute at APU, the former Japanese Prime Minister, Mr. MURAYAMA Tomiichi, each participant reported on their activities, shared their success stories and discussed several issues relating to how to develop their educational activities.

During his speech, President KORENAGA emphasized two words: "multicultural society" and "harmonious society", and explained the historical value of the Chinese culture by drawing on examples from the well-known Chinese film, "Mogong", and citing various famous words of Confucius. In addition, he also stressed the importance of mutual respect between different cultures, saying that "I believe the Confucius Institutes in Japan need to further enhance how they provide the valuable opportunities and better learning environments for Japanese and Chinese people to learn more about their respective cultures."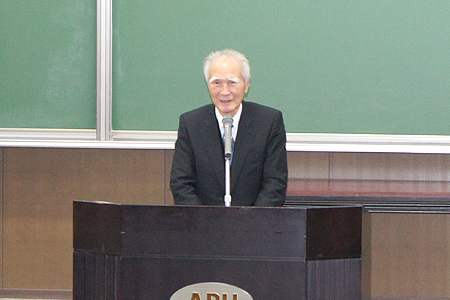 A second speech was offered by the former Japanese Prime Minister, MURAYAMA Tomiichi, who spoke about the significant relationship between Japan and China and expressed his hope that the Confucius Institutes will become stronger and stronger. "The relationship between Japan and China is not only having an effect on these two countries, but it is also having a great influence on the entire world".

During the discussion session, each Confucius Institute representative made a presentation based on their events and activities this year. The group then exchanged opinions on how to develop their activities including how to take advantage of the 2012 40th anniversary of the normalization of diplomatic relations between China and Japan in order to garner greater support for Institutes in the local community.

That evening, the Confucius Institute members in attendance enjoyed a traditional Chinese performance provided by a troupe of APU students at a dinner party held at the Beppuwan Royal Hotel.

The "Confucius Institutes" have been established by the Chinese government around the world to spread the Chinese language and promote people's understanding of the Chinese culture. The first Confucius Institute in Japan was established at Ritsumeikan University in October 2005. The Confucius Institute at APU was established in April 2007 - the first Confucius Institute established in Kyushu, and has since organized a range of lectures and language classes for the local community. The Institute is also developing several events on campus to promote people's understanding of Chinese culture and arts.
Reporter, Student Press Assistant (SPA):ZHAO Ruixi (APM3, China)