講演・シンポジウム|来学者
Dec 26, 2011
On Thursday, December 22th, 2011, Ms. Akiko SAGANO, Senior Deputy Director in charge of Cultural Affairs at the Public Diplomacy Department of the Ministry of Foreign Affairs of Japan, visited APU and gave a special lecture titled "Japan's Public Diplomacy". This session was held as a part of the APS course "International Cooperation EA" (instructor: Professor FUJIMURA Kazuhiro).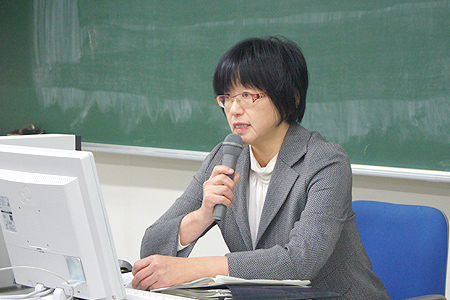 Ms. SAGANO made her presentation on various aspects of Public Diplomacy based upon her experiences of having served at the Foreign Ministry in Tokyo as well as at the Public Diplomacy Section of the Embassy of Japan in the United States of America.

Ms. SAGANO began her lecture by explaining what Public Diplomacy is and what role it plays in the international relations. As a concrete case, she mentioned an image of Japan in the international community.

Then Ms. SAGANO dealt with specific policy tools that the Foreign Ministry and Japan Foundation are employing to implement Public Diplomacy. At the Yokohama APEC 2010, Ms. SAGANO completed a very important mission of managing all the First Ladies' programs. Her talks about this experience were particularly interesting for the APU students.

Furthermore Ms. SAGANO discussed what kind of efforts Japan has been making in the field of Public Diplomacy in the wake of the Great East Japan Earthquakes in March 2011 and also what role the cultural exchanges have been playing to underline Japan's bonds with the international community.

Ms. SAGANO concluded her session by answering some questions from the audience. This special lecture was a very precious occasion for the APU students who are interested in international cultural exchanges.