On Saturday December 3, 2011, APU held an educational symposium under the theme "Study in Japan, Work in Asia – Global Human Resources and Japanese Higher Education –" at Shangri-La Hotel, Singapore. Approximately 140 people, including APU alumni, teachers and students from local schools, business persons, about 140 people were in attendance.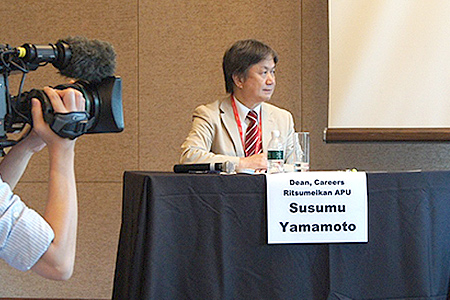 The Symposium was kicked off with an opening address by APU President, KORENAGA Shun and was followed by a panel discussion. The panel was moderated by Professor YAMAMOTO Susumu, APU Dean of Careers. The three guest panelists were Mr.MATSUI Mikio, Director, Panasonic Asia Pacific Pte. Ltd., Mr. Lai Ah Leow, President of Yokogawa Electric Asia Pte. Ltd., and Ms. Mengmeng Cui, APU alumni (APS 2004, China). The panelists discussed passionately about topics such as the importance of global human resource development and significance of studying at Japanese universities.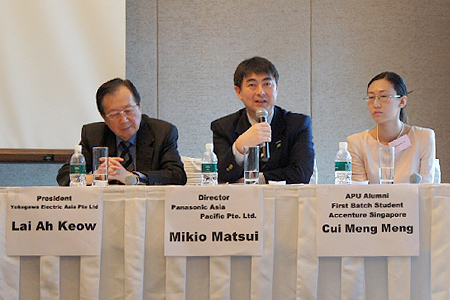 A reception buffet was held immediately after the symposium. More than 60 APU graduates from over 15 countries and regions who were present at the event. The graduates helped to make the atmosphere warm and pleasant, with a distinctive "APU" feel.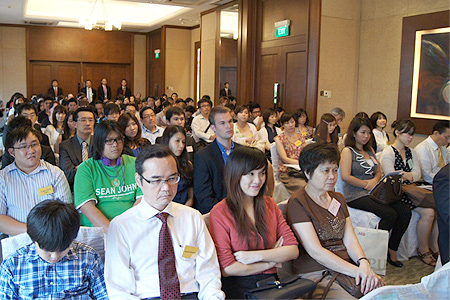 On Thursday, December 1 and Friday, December 2, 2011, the two days prior to this event, APU had hosted a conference in collaboration with Nanyang Technological University S. Rajaratnam School of International Studies under the title "Engaging the United States: Asia-Pacific Responses". These events spanning three days were well received and were also an excellent opportunity for people in Singapore to gain a better understanding of studying in APU and Japan.