On Friday, December 16, 2011, the Japanese Week Grand Show was held at the APU Millennium Hall. Despite the bad weather, approximately 650 people came out to enjoy the performance.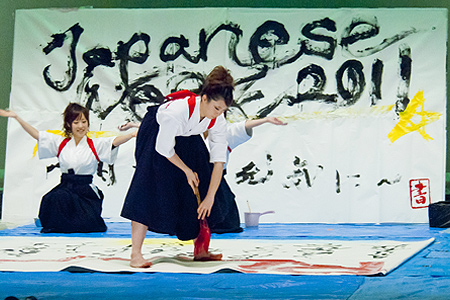 In addition to showcasing Japanese culture, the show also told the story of the Byakkotai – the legendary story of the teenage warrior troupe and their links to the Fukushima area. In this way, the performance put the spotlight on some of the regions affected by the March 11 2011 earthquake and tsunami disaster as well as aspects of traditional Japanese culture.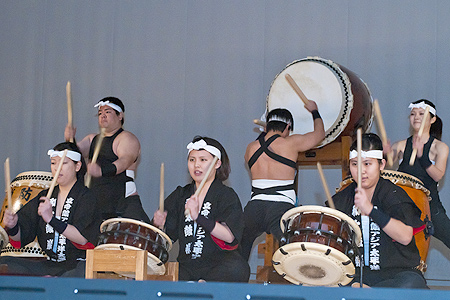 The show began with a silent prayer for the victims of the Tohoku earthquake and tsunami. One-hundred and twenty domestic and twenty international students then retold the story of the Byakkotai child warriors. The show brought together both the traditional and contemporary aspects of Japanese culture including calligraphy, the Wadaiko Japanese drum, Arauma and Yosshakoi dances, and modern J-pop music.
Japanese Week representative, HAYASHI Yosuke (APS2, Japan), commented on the show, "The earthquake and tsunami of March 11 was a huge tragedy for Japan. We felt that the Japanese people need to seriously take to heart what happened. We also wanted to introduce to the international students the Japanese culture including how we think and feel. This was the motivation behind how we decided the theme for our show".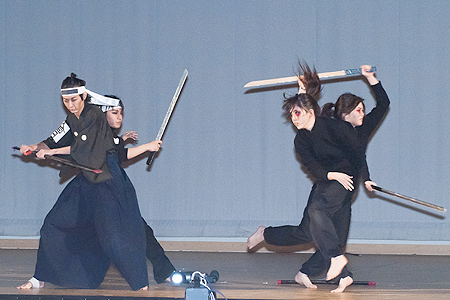 APU student, Fatemee Muhammad Shahinur Rahman (APM3, Bangladesh), gave his impressions of the show, "It was great to see the Japanese students thinking seriously about their country. I really enjoyed the performance".
* The Byakkotai was a legendary troupe of 16-17 year old warriors formed in the Aizu Domain (modern-day western Fukushima Pref.) during the 1868 Battle of Aizu. Although they met with a tragic ending, the legendary tale of the Byakkotai has been depicted in film and television dramas.
Reporter, Student Press Assistant (SPA):KIM Yon Woo (APS4, Korea)