On Friday, January 13, 2012, APU and Himeshima-Village (Higashi-Kunisaki District, Oita Prefecture) concluded a Friendship Agreement at a signing ceremony held at the Oita Prefectural Office. Himeshima-Village is engaged in a range of initiatives to promote the redevelopment of marine industries and tackle environmental issues under the principle of "Living with the sea for a village of health and vitality". Himeshima-Village's agreement partner, APU, aims to nurture globally-minded graduates as a centre for education and research. This agreement serves as the starting point for further exchange and the foundation of a solid collaborative and cooperative relationship between the two parties.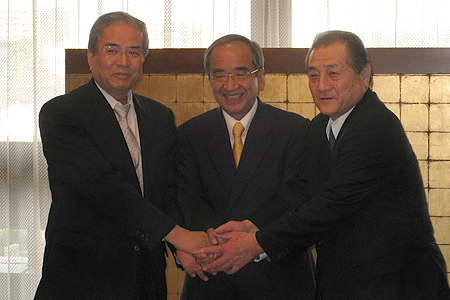 The signing ceremony was attended by the Mayor of Himeshima-Village, FUJIMOTO Akio, APU President KORENAGA Shun, and the Governor of Oita Prefecture, HIROSE Katsusada in the capacity of official witness. During the ceremony, President KORENAGA said "I hope that this agreement is the beginning of an even stronger relationship with Himeshima-Village. I look forward to further interaction and hope that we can work together to tackle the issues Himeshima-Village faces". In response, Mayor FUJIMOTO said "I am glad that we have been able to conclude this agreement. I look forward to working with APU on a range of issues including marine industry development, tourism and Oita's efforts to establish a geo-park in the region".

With a population of approximately 2500, Himeshima-Village is situated at the western end of the Seto Inland Sea. Surrounded by the ocean on all sides, the island community enjoys a healthy marine industrial sector. Himeshima Island also appears in ancient Japanese scripts and the Chronicles of Japan and its historical obsidian quarries are registered as a national treasure. Himeshima is loved throughout the Prefecture and Japan as a popular tourist spot.

APU was opened through the invitation of Oita Prefecture and Beppu City, and considers the internationalisation and revitalization of the region to be one of its central missions. APU has now concluded agreements with 17 municipalities and organizations both within and outside of Oita Prefecture including this agreement with Himeshima-Village. Through these agreements, every year over 1000 APU students contribute to local communities by participating in exchange programs throughout the Prefecture and further afield.