On Friday, January 20, 2012, the Taiwan Culture Week "Grand Show" was held at the APU Millennium Hall. Many students, faculty and staff patiently lined up outside of the Millennium Hall, despite the freezing weather, to enjoy the Grand Show finale of Taiwan Culture Week.
The show was based on the story of two families; a gangster family and an aboriginal Taiwanese family. Two babies are born – one to each family – but are secretly switched by the mother of the gangster family. Through a range of performances, the show told the tragic story that unfolded.
Approximately 100 students including 60 non-Taiwanese students took part in the wonderful drama that showcased Taiwanese culture, including the contemporary "TaiKe Dance", "Bamboo Dance" and the traditional "Chief guards of Ksitigarbha" – a traditional dance with fierce face paintings and colourful costumes.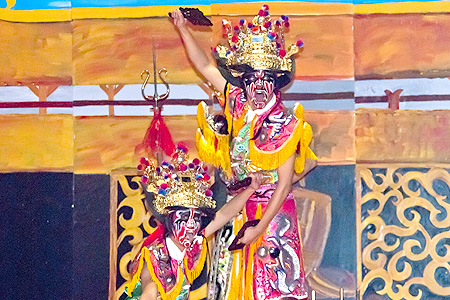 OTSUBO Yuki (APS4, Japan), who participated to the Taiwan Culture Week for the second time, shared his thoughts on the show, "At first, I thought we would not have enough time to prepare, which was a major concern. However we got better and better as we practiced and in the end we put on a great performance thanks to the cooperation and harmony of all members."

Representative of Taiwan Culture Week 2012, LIN Yu-Sheng (APM3, Taiwan), commented on the show, "Thank you to everyone who took part in Taiwan Culture Week and thank you so much for giving us the opportunity to share our culture with you. Next year we plan to hold the fifth Taiwan Culture Week and we hope that our next program will again touch your heart!"
Reporter, Student Press Assistant (SPA):KIM Yon Woo (APS4, Korea)