講演・シンポジウム|来学者
Feb 9, 2012
On Wednesday, January 11, 2012, Ms. YOSHIKAWA Miyoko, a leading Japanese specialist on sea-otter research and visiting research fellow at the National Marine Mammal Laboratory (Alaska, USA), delivered a Social Outreach Seminar under the theme of "Sea-otters and Current Environmental Problems". In addition to her research, Ms. YOSHIKAWA is also an announcer for a major Japanese TV station.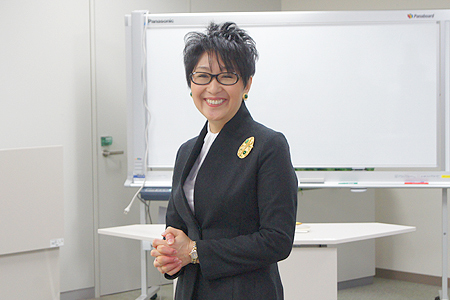 During her lecture, Ms. YOSHIKAWA spoke about sea-otter habitats, the history of sea-otter and human interaction, and the impact of climate change. Despite almost being pushed to the brink of extinction by overhunting, sea-otters are once again facing extinction because of global warming. The destruction of food chains in sea-otter ecosystems is an even more direct threat which, she suggested, will not only lead to the extinction of sea-otters, but also to "ocean desertification".

At the conclusion of the lecture, Ms. YOSHIKAWA responded to questions from the audience, shared tales from her youth about her interest in sea-otters, and offered advice on writing research papers.
The lecture proved to be a great opportunity for students to learn more about global ecosystems and environmental problems through the case-study of sea-otters.

A major in Environment and Development is offered at the APU College of Asia Pacific Studies with specialist subjects focusing on the sustainable use of natural resources with an aim towards tackling the many problems facing the Asia Pacific region.

*The National Marine Mammal Laboratory (Alaska, USA)
This laboratory was established as a center of research into the ecosystems of sea-otters and marine birds in the wake of the March 1989 Exxon Valdez oil spill – one of the worst oil spills in American history.
Reporter, Student Press Assistant (SPA):ARAKI Yukari(APS3, Japan)