On Sunday, November 20, 2011, APU student, YAMAGUCHI Miku (APS3, Japan), claimed second place at an Indonesian Speech Contest hosted by Nanzan University (Aichi Pref.).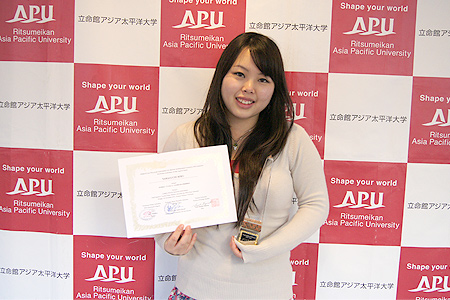 During her time at APU, Miku was an exchange student to the University of Pasundan (Bandung, Indonesia) as a recipient of the Indonesian Government Darmasiswa Scholarship. Based on this experience, Miku delivered a speech about the similarities between Japanese and Bahasa-Sunda, the local language of the Sundanese people. Leading up to the contest, Miku paid special attention to her Indonesian pronunciation and practiced with APU students from the Bandung region in order to master the pronunciation of sounds that don't exist in standard Indonesian.

Miku also spoke about her plans for the future, "As an exchange student to Indonesia, there were many times when I felt homesick or unwell and I owe so much to my APU Indonesian friends and teachers who helped me through the hard times. I wanted to return the favor by winning the contest, so coming second was a real shame. In the future I hope to improve my skills further and work in a job where I can introduce the Japanese language and culture to Indonesia, such as in a Japanese language school".

At APU, we aim to provide students with opportunities to develop advanced language proficiency by offering beginner, intermediate and advanced classes in six of the major languages of the Asia Pacific, namely, Chinese, Korean, Malay/Indonesian, Spanish, Thai and Vietnamese, in addition to English and Japanese.